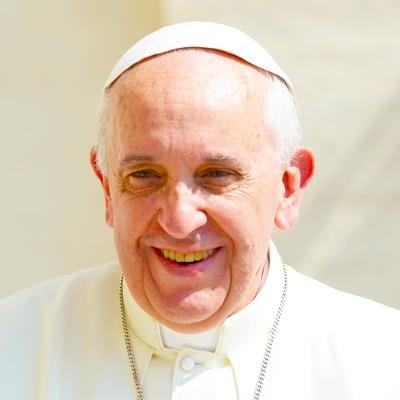 Pope Francis
Vatican
Welcome to the official Click To Pray profile of His Holiness Pope Francis.
1469
have prayed
Today is "Sea Sunday", dedicated in a particular way to seafarers and to those whose source of work and sustenance is the sea. I pray for them and exhort everyone to take care of the oceans and seas. Take care of the health of the seas: no plastic in the sea!
Devinder Hayre
Rum is best for sea fares
2395
have prayed
From the next 12 to 15 September, God willing, I will travel to Slovakia. First, I will celebrate the concluding Mass of the International Eucharistic Congress in Budapest. Let us all pray for this journey and for the people who are working to organize it.
Amanda Hayward
Get well soon we pray your Holyness x
Brenda Harris
May the Flame of Love of the Immaculate Heart of Mary continue to spread the effect of Grace over all humanity through the efforts of Elizabeth Kindelmann, a daughter of Hungary and resident of Budapest.
2064
have prayed
I invite you all to join spiritually with us, praying that praying that Lebanon may recover from the serious crisis it is going through and show the world once again its face of peace and hope.
Monica Garcia
Pray for my children to forgive each other and reconnect in order for them to have the love they share. Keep all families together
Devinder Hayre
Come into harmony with the lord
1704
have prayed
I assure my closeness to the populations of South-west of the Czech Republic struck by a strong hurricane. I pray for the departed and the injured and for those who have had to leave their seriously damaged homes.
clare probert
my message be the peace, feel peace and correct sin
Devinder Hayre
Use my other comments
424
have prayed
On the occasion of today's Day of prayer for peace in the Middle East, I invite everyone to implore God's mercy and peace in that region, where the Christian faith was born and is alive, despite the suffering.
clare probert
trump cannot be pop resident again he shareholder in tesla weapons, his intention was to keep me prisoner direct energy weapon and he thinks he has life front of God. i pray he sees the light peace
1398
have prayed
Today, in proximity to the Feast of Saints Peter and Paul, I ask you to pray for the Pope. Pray in a special way: the Pope needs your prayers!
Celia Fiol
I pray for Pope Francis's speedy recovery. Please continue praying for us. Amen
Bharathy
We pray for our beloved Pope Francis that he be blessed with good health and the Holy Spirit guides him as he leads the universal Catholic Church. We also thank God for giving us Pope Francis as he leads us on this pilgrimage on earth . Amen
1985
have prayed
With the Bishops of Myanmar I plead that humanitarian corridors be allowed and that churches, pagodas, monasteries, mosques, temples, schools and hospitals be respected as neutral places of refuge. May the Heart of Christ touch the hearts of all bringing peace to Myanmar!
Devinder Hayre
President Trump can solve this issue
2144
have prayed
I am especially close to the population of the Tigray region in Ethiopia, struck by a grave humanitarian crisis that could expose the poorest people to famine. Let us pray together that the violence may cease immediately, that food and heath assistance be guaranteed to everyone, and that social harmony be restored as soon as possible.
frank obrien
O Loving and merciful Father, Soften the hearts of those people who by their actions cause suffering to the weakest and most vulnerable of our fellow human beings. We earnestly ask this through our Lord and Saviour, Jesus Christ
2387
have prayed
I join the Canadian Bishops and the whole Catholic Church in Canada in expressing my closeness to the Canadian people. We commend to the Lord the souls of all the children who have died in the Canadian residential schools, and we pray for the grief-stricken indigenous families and communities of Canada.
Devinder Hayre
May Canada stop abortion like president Trump and help the Sikh people
Bharathy
We pray for the souls of the little ones who died in the residential school and for the indigenous community of Canada. Beloved Mother Mary pray for them, St Joseph intercede for them and Holy Angels watch over them. Amen.
1795
have prayed
Let us pray together for the victims of the massacre that took place in a village of Burkina Faso. I am close to the family members and all the Burkinabé people suffering greatly because of these repeated attacks. Africa needs peace, not violence!
Jackie Caligner
May God brings peace in the hearts of all people.
Devinder Hayre
Hold a guns amnesty