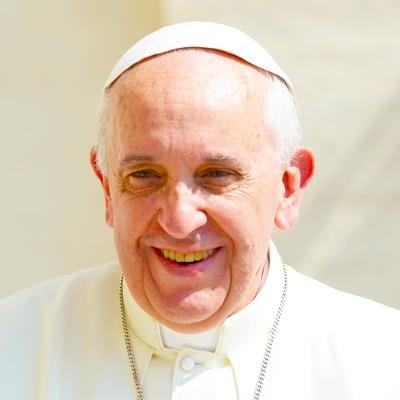 Pope Francis
Vatican
Welcome to the official Click To Pray profile of His Holiness Pope Francis.
1390
have prayed
I ask you to accompany with your prayers my journey to Bulgaria and North Macedonia, which I begin tomorrow as a pilgrim of peace and fraternity. #ApostolicJourney
sr.mereena vijayan
Hail Mary
Georgie Porgy
We love you Holy Father and walk beside you, together with Jesus, Our Lord and Master. Peace be with you always from Australia🙏🏼⛪️🎚
1087
have prayed
Let us pray that the Church in Africa, through the commitment of its members, may be the seed of unity among her peoples and a sign of hope for this continent.
Karin Hauenstein
Most Holy Father thank you for your service and intentions. Please pray for the Lord's servant, Pastor William Jefferson Akpalu of the Fresh Fire International Centre in Nungua-Accra, Ghana. This humble man of little means works tirelessly and fasts constantly in order to worship and support others.
948
have prayed
We pray for those who have lost their lives, or who have suffered serious damage and injury from the recent floods in South Africa.
Phạm Nguyễn Hải Đăng
Amen🙏🏻🙏🏻🙏🏻🙏🏻🙏🏻🙏
Christlyn
Lord hears our prayers. Amen
784
have prayed
I invite you to join me in praying for those refugees who are in detention centers in Libya: their very serious situation is made even more dangerous as a result of the ongoing conflict.
Brandon W.
Lord hear our prayer
egondeur
I saw a documentary on that subject. Jesus please have mercy on us, especially in the West where we cause troubles in Africa and then ignore the refugees who are trying to get away from problems they did not cause.
975
have prayed
Let us join in prayer with the Christian community of Sri Lanka, which was struck by terrible violence on Easter Sunday. We entrust to the risen Lord the victims, the wounded and all the suffering. #PrayForSriLanka
Cau Nguyen 271
Xin Chúa chúc lành cho Sri Lanka thân yêu!
908
have prayed
I renew my appeal to young people and to all of us to pray the Rosary for peace, especially for peace in the Holy Land and in the Middle East.
869
have prayed
Let us pray for doctors and their humanitarian collaborators in war-torn areas, who risk their lives to save the lives of others.
682
have prayed
Dear brothers and sisters, following in the footsteps of my holy predecessor John Paul II, on Saturday and Sunday I will be in Morocco as a pilgrim of peace and fraternity. I ask you to accompany me in prayer. #ApostolicTravel
Rena Forgeron
Father our bless please Marocco my Friend Karim and all his Family and Friends 🙏🙏🙏Thank You Papa Francesco for Your dialogue❤️Thank You Holy Papa Jean Paul II ❤️pray with us and with Holy Mary please 🙏
675
have prayed
Let us pray for the numerous victims of the latest inhumane attacks in Nigeria and Mali. May the Lord welcome these victims, heal the wounded, comfort family members and convert cruel hearts. Let us pray: "Hail Mary..."
Klára D.
Pane, prosím, aby se nešířilo zlo ve světě, ale Tvá láska. Amen
847
have prayed
I pray for the victims of the horrible attack against two mosques in #Christchurch, New Zealand. I renew my invitation for prayer and gestures of peace to combat hatred and violence.