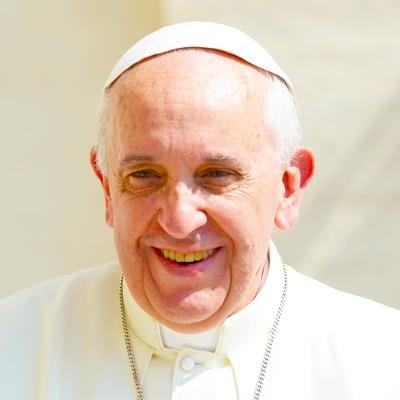 Pope Francis
Vatican
Welcome to the official Click To Pray profile of His Holiness Pope Francis.
3886
have prayed
I invite you to pray for the poor unarmed people who were killed or injured by an air strike on a migrant detention center in Libya.
AnnetteK
God Bless Everyone 🙏
meabhmcconnell
internal rest grant onto them o lord
5816
have prayed
Today we celebrate the 175th anniversary of the Pope's Worldwide Prayer Network. I invite you to pray with me to be united to the Heart of Jesus and to enter together into a mission of compassion for the world.
meabhmcconnell
we pray for Pope Francis and his intentions, gobless him
Domhnaill
AMDG - - - tt ❤️🙏💜
3543
have prayed
I invite everyone to look at the Heart of Jesus and to imitate its truest feelings. Pray for all priests and for my Petrine ministry, so that all pastoral action may be marked by the love that Christ has for all of us.
6624
have prayed
Let us pray for this nation, so that the violence may cease and that the common good may be sought in dialogue.
4053
have prayed
Holy Spirit, breathe into our hearts and let us inhale the tenderness of the Father. Breathe upon the Church, so that she may spread the Gospel with joy. Breathe upon the world the fresh restoration of hope.
GREGORYARBUCKLE
THROUGH LOVE OF THE HOLY SPIRIT, MAY WE TURN FROM HATRED'S DEATH INTO LOVE'S LIFE
2978
have prayed
Lord, defuse the violence of our tongues and our hands. Renew our hearts and minds, so that the word which always brings us together will be "brother", and our way of life will always be: Peace.
Nuri Warzecha
We pray to you father. Y
5095
have prayed
Tomorrow I will go to Romania as a pilgrim, to walk together with our brothers of the Romanian Orthodox Church and with the Catholic faithful. I ask you, please, to pray for me.
sr.mereena vijayan
3 Hail Mary
4216
have prayed
We pray for the Catholics in China. May Our Lady of Sheshan help them witness to the faith, in communion with the universal Church, and to persevere in unity despite the wounds and the trials, trusting in the hope that does not disappoint.
Karin Hauenstein
I pray God keeps the spirit of Baby YeYe alive in the hearts of her parents and all people in China that they will always place the lives of others above their own. I pray the love of God reach every human heart and rest there in earnest to restore the blessings known by Adam. Amen.
3495
have prayed
We pray for those who live with severe illness. Let us always safeguard life, God's gift, from its beginning until its natural end. Let us not give in to a throwaway culture.
Sherry Ann Simmonsbecklesmarcano
I come to you Lord for your healing strength cover all who are ill and weary with your precious blood and heal them. Amen
1812
have prayed
On this World Day of Prayer for Vocations, let us join in prayer and ask the Lord to help us discover his plan of love for our lives, and to grant us the courage to walk in the path that, from the beginning, he has chosen for each of us. #Vocations
GREGORYARBUCKLE
MAY OUR DEAFNESS TO GOD'S VOICE TURN TO JOYFULNESS HEARING FAITH & HOPE & LOVE IN TODAY'S BEAUTIFUL STRUGGLES INTO TOMORROW'S TRIUMPHS
Deborah Teske
May there be more vocations to the priesthood and sisters. Amen