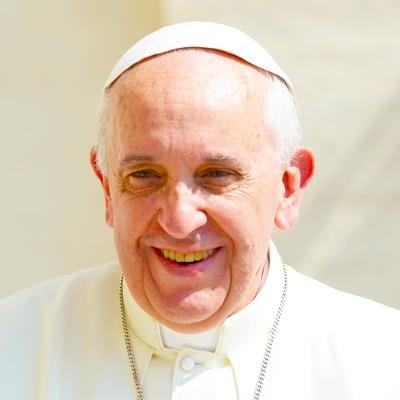 Pope Francis
Vatican
Welcome to the official Click To Pray profile of His Holiness Pope Francis.
5239
have prayed
I also join in my prayer the memory of those who are affected by cancer, that they too may always be more supported, both in the prevention and in the care of this disease.
3520
have prayed
Let us pray for the conversion of hearts and for those who suffer from Alzheimer's, for their families and for those who lovingly care for them.
Ebrahimpanah Shahram
Pane, vyslyš nás!
Sybille Joniaux
gezegend alle mensen met geheugen verlies en andere hersenaandoening . Heilig zijn hun mantelzorgers.
5965
have prayed
I invite you, each within your own heart, to pray for our brothers and sisters who have lost their lives or who are suffering because of the hurricane in the Bahamas.
3704
have prayed
I invite you all to join in my prayer so that God, Father of all, may consolidate fraternal reconciliation in Mozambique and all over Africa, the only hope for a solid and lasting peace.
Jacqueline James
Amen...🙏🏾
3753
have prayed
Now is the time to rediscover our vocation as children of God, brothers and sisters, and stewards of creation. In this #SeasonOfCreation, I invite everyone to dedicate themselves to prayer.
GREGORY ARBUCKLE
MAY WE ALL, WHO HAVE PROBLEMS IN OUR LIVES, REMEMBER CHRIST'S LOVE, MERCY & FORGIVENESS THROUGH HIS SACRIFICE ON THE CROSS FOR USALL, I PRAY EACH OF US SPIRITUALLY, WRITE DOWN THEIR WORRIES & MENTALLY NAIL THEM ONTO THE CROSS, LETTING CHRIST HAVE OUR WORRIES TO CARRY TO OUR FATHER
msamorales
Let us pray for humanity. Help them acknowledge, respect and care for the non human creations that God has put on this earth. They are here for a reason. Let us pray that they do not question God's judgement. Give animals the compassion and respect deserving of all of God's creations.
3121
have prayed
We are all worried about the vast fires that have developed in the Amazon. Let us pray that, with everyone's commitment, they may be tamed as soon as possible. That lung of forest is vital to our planet.
4294
have prayed
Prayer made with faith is powerful! We continue to pray the Rosary for peace in the Middle East and throughout the world.
Martin Vejčík
Amen bros and sis
5229
have prayed
I am spiritually close to the victims of the episodes of violence that these days have bloodied Texas, California and Ohio, in the United States, affecting defenseless people. I invite you to join in my prayer for those who have lost their lives, for the wounded and their families.
Hsjw Lekekek
....god.bless..and.me..the.holly.virgin..mary..marilyn.monroe...pray.for.yours..pray.for.we..happy.christmas..buon.natale..i.wamy.speak.little.with.yours..grazie..thank.you..
8148
have prayed
Let us pray the Lord to inspire and enlighten the parties involved, so that they can reach an agreement as soon as possible that will put an end to the suffering of the people for the good of the country and of the entire region.
6974
have prayed
We pray for the sick who are abandoned and left to die. A society is human if it protects life, every life, from its beginning to its natural end, without choosing who is worthy to live or who is not. Doctors should serve life, not take it away.
Isabella
Amen, I'm sick right now but, I pray for the people who are sicker than me.