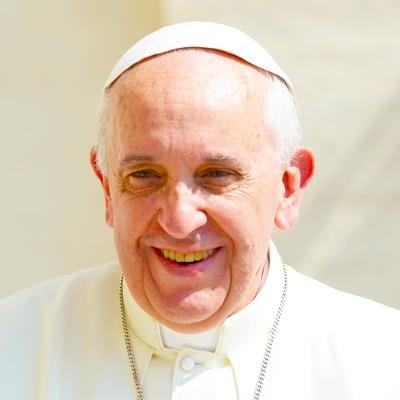 Pope Francis
Vatican
Welcome to the official Click To Pray profile of His Holiness Pope Francis.
2969
have prayed
We pray today for families who need to manage a difficult situation, especially those families with a disabled person among them. Let us pray they do not lose their peace in this moment and that they succeed in moving forward with strength and joy.
GREGORY ARBUCKLE
MAY WE SEE OUR FUTURE SELVES IN THE NEEDS OF THOSE UNABLE TO FULLY CARE FOR THEMSELVES
3346
have prayed
We seek refuge under your protection, O Holy Mother of God. Do not despise our pleas – we who are put to the test – and deliver us from every danger, O glorious and blessed Virgin.
Christlyn
Lord, hear our prayers
2951
have prayed
I am close with prayers to people who suffer from the current coronavirus epidemic and to all those who are giving care. I join my brother bishops in encouraging the faithful to live this difficult moment with the strength of faith, the certainty of hope and the fervor of charity. The season of Lent helps us to give an evangelical sense also to this moment of trial.
Christlyn
Lord, hear our prayers
1612
have prayed
I renew my great apprehension regarding the inhuman situation of these defenseless people, including many children, who are risking their lives. We must not look away from this humanitarian crisis, but give it priority over any other interest. Let us pray for these people, our brothers and sisters, who suffer so much in the northeast of Syria, in the city of Idlib.
3258
have prayed
I ask you to remember me in your prayers and also the members of the Roman Curia, who this evening begin a week of Spiritual Exercises.
Jobin J
holy Spirit please guide church in the path of salvation. amen
1831
have prayed
I am somewhat saddened by the news arriving of so many displaced people. So many men, women, and children chased away because of the war, so many migrants that ask for refuge in the world, and help. In these days, it has become very strong. Let us pray for them.
6673
have prayed
Let us pray for our Chinese brothers who suffer from this cruel disease. May they find the way to recovery as soon as possible.
SMJ
And our Chinese sisters
2978
have prayed
I would like us all to pray together right now for beloved and tormented Syria. Many families, many elderly, children, must flee the war. Syria has been bleeding for years. Let us pray for Syria.
2725
have prayed
Painful reports are still emerging from northwestern Syria, particularly regarding the plight of so many women and children, as well as of people forced to flee because of a military escalation. Make use of diplomatic channels, dialogue, and negotiation to end the conflict and to safeguard the lives and welfare of civilians. Let us pray for beloved and martyred Syria.
Christopher Pesavento Jr
Jesus guide us to peace
2407
have prayed
Saint Bakhita, patron saint of victims of trafficking, faced the pain of slavery and witnessed the freedom and joy of encountering the Lord. Let us pray that all may live this joy and break the chains of slavery. #PrayAgainstTrafficking
Christopher Pesavento Jr
#PrayAgainstTrafficing Thank you Jesus