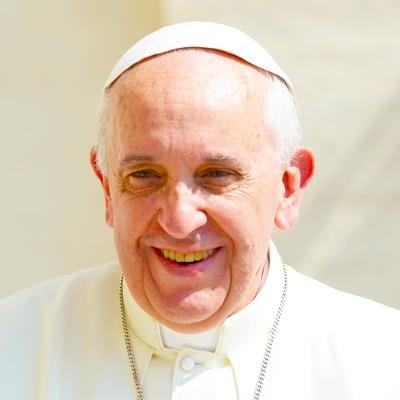 Pope Francis
Vatican
Welcome to the official Click To Pray profile of His Holiness Pope Francis.
2611
have prayed
I pray that what has been agreed will finally be put into practice, also through effective disarmament and mine clearance. This is the only way to rebuild confidence and lay the foundations for the reconciliation that is so necessary and so much awaited by the people.
AnnetteK
Amen Holy Father ✝️🙏❤️
2891
have prayed
While I assure my prayers to the families of those who have lost their lives during the clashes, I hope that, with the dedication of the international community, and through dialogue and goodwill, there may be a lasting peaceful solution for the good of those beloved peoples.
Mikewwright
I pray for all who make the ultimate sacrifice for God freedom family the Lord will always love us .
Felizardo Zards Perales
Amen 🙏🙏🙏
4311
have prayed
On the anniversary of my visit to Lampedusa, let us pray that we might discover the face of Jesus in all people forced to flee their homeland because of the many injustices that continue to afflict our world.
4416
have prayed
Let us pray for the Conference of the European Union and the United Nations, so that it may improve the dramatic situation of the Syrian people and neighbouring peoples, particularly Lebanon, in the context of serious socio-political and economic crises that have been made even more difficult by the pandemic.
2667
have prayed
I invite everyone to pray for the people of Yemen, especially children, who are suffering as a result of the very serious humanitarian crisis, and for those affected by the severe floods in Western Ukraine.
Brenda Harris
Our souls are restless unless they rest in you , Lord Jesus Christ. Let our restless armies return home so that their bodies will have the opportunity to rest in their own homes.
Deepa Immanuel
🙏🙏Have mercy on us oh lord.Amen.
4028
have prayed
I invite you to join me in praying for a renewed and effective commitment, on the part of us all, to the effective protection of every human being, especially those who have been forced to flee as a result of situations of grave danger to them or their families.
3680
have prayed
I invite you to pray for priests, so that through your prayer the Lord might strengthen their vocation, comfort them in their ministry, and help them always be joyful ministers of the Gospel for all people.
Alex alex
may the Lord Jesus enhance peace, love, unity among the priest and all men and women of God for Christ Jesus
Gordon E Morris
Heavenly Father we pray for our priests that they continue in faithfulness, trusting in your love and mercy as they face the challenges of today. May Mary our Mother intercede for them to be courageous and persevering in their vocation.
3342
have prayed
I urge international bodies and those who have political and military responsibilities to search for a path to peace in Libya. I pray for the thousands of migrants, refugees and internally displaced persons and call on the international community to take their plight to heart.
gilson mulloor
Amen, Halleluia.
Deepa Immanuel
May the leaders see the pain of refugees and migrants and give them comfort in their life .Lord we pray with Pope and whole world for them.Thank you Jesus.Amen.
4771
have prayed
The month of June is dedicated in a special way to the Heart of Christ, a devotion that unites the great spiritual teachers and the simple among the people of God. A beautiful prayer, short, to pray during this month: "Jesus, may my heart resemble yours".
4086
have prayed
We cannot tolerate or turn a blind eye to racism and exclusion in any form. At the same time, we have to recognize that violence is self-destructive and self-defeating. Nothing is gained by violence and so much is lost. Let us pray for reconciliation and peace.
Alex alex
I pray for all broken families and homes may the Lord Jesus intervene and bring peace, reconciliation and love, in Jesus name
globa chilakpu
I pray for justice, peace and equal right for all Amen 🙏