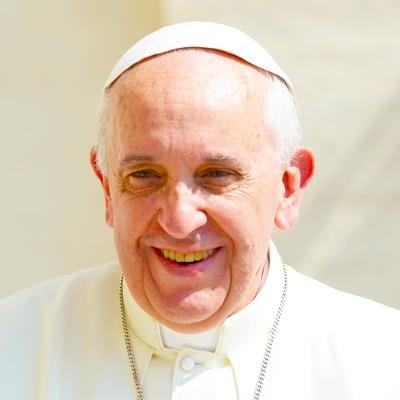 Pope Francis
Vatican
Welcome to the official Click To Pray profile of His Holiness Pope Francis.
2042
have prayed
Let us entrust our brother and sister Catholics in China to the guidance and protection of our Heavenly Mother, so that they might be strong in faith and steadfast in fraternal union, joyful witnesses, and promoters of charity and hope.
3855
have prayed
Let us #PrayTogether today for those who clean hospitals, streets, who empty dumpsters, who go to each house to remove trash. It's a job that no one sees, but one that is necessary for our survival. May the Lord bless them.
Deepa Immanuel
Lord,Jesus let them be covered by your most precious blood and protect them from all diseases .Give them health and enthusiasm in their work.Lord help them in their needs. We pray .Amen.
gilson mulloor
Let the blood of Jesus give them protection from all the external dangers.
2466
have prayed
Today is the #InternationalDayOfFamilies: Let us pray for all families, so that the Spirit of the Lord - the spirit of love, respect, and freedom - might grow in families. #PrayTogether
Brendan D
God in Heaven, bless and keep all families and help broken families reconcile with each other and become whole again. Amen.
Gordon E Morris
O Lord bless all families with love, peace and joy so that they live their calling to the full. Amen.
1880
have prayed
All of us – brothers and sisters of every religious tradition – unite today for the day of prayer, fasting, and penance called by the Higher Committee for Human Fraternity #PrayTogether
Francisco Massarotti
🙏🏻🙏🏻🙏🏻
🇵🇭vergaraE
🙏🙏🙏#PrayTogether Amen
2103
have prayed
Today is International Nurses Day. Nursing is more than a profession – it's a vocation, a dedication. During this pandemic, they have given an example of heroism. Some have even given their lives. Let us #PrayTogether for nurses.
Brendan D
Lord God in Heaven, uphold them with your righteous right hand. Amen.
Gordon E Morris
Thank you Lord for the thousands of nurses who silently have showered love, compassion and care for the millions of sick and dying, especially during this pandemic. God Bless bless them and their families.
2001
have prayed
Many people have recently lost their jobs. Let us #PrayTogether for our brothers and sisters who are suffering for lack of employment.
Danny Phillips
For my friend Roy who is unemployed. As the government opens back up, may he get his job back.
Brendan D
May the Good Lord bless those who have become unemployed. May he return their livelyhoods to them soon. Amen.
1920
have prayed
Today is the commemoration of Saint Luisa de Marillac. Let us #PrayTogether for the Vincentian sisters who have worked here at Santa Marta for nearly 100 years, while running the clinic.
Bohuslav Zatloukal
ZDRAVÍ SV OTEC FRANCIS DNWS POŽEHNÁNI NEJSVĚTĚJŠÍ TROJICE V SKALICE PŘEJE BOHOUŠEK
Brendan D
May the Good Lord in Heaven bless and keep them and may they be filled with the Holy Spirit always. Amen.
1686
have prayed
Today is World Red Cross and Red Crescent Day. Let us #PrayTogether for those people who work in these noteworthy institutions. May the Lord bless their work which does so much good.
Brendan D
May God bless them for help during disasters and for their charity.
1692
have prayed
I would like to ask the Lord to bless artists, who make us understand what beauty is. The Gospel cannot be understood without beauty. Let us #PrayTogether once more for artists.
sergio80
Jesus bless them, save them and their souls !!!
Ashley Sumner
Thankyou Father for praying for Artists I am an artist who has been suffering with sadness and struggling with my gift there's so many days that my talents have left me I pray all the time that I struggle nomore and that my talents return to me
1618
have prayed
Let us #PrayTogether for men and women who work in the media. They have risked much and worked tirelessly during this pandemic. May the Lord help them always in their task to transmit the truth.
Brendan D
Good Lord in Heaven, you who is the God of Truth, guide and protect them. Amen.
Mkl
May the media always tell the truth for the Glory of God🙏🏼