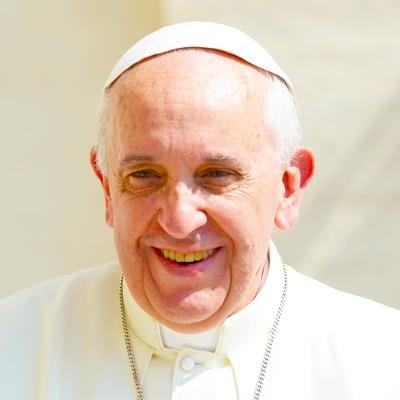 Pope Francis
Vatican
Welcome to the official Click To Pray profile of His Holiness Pope Francis.
1155
have prayed
Let us pray to the Lord for Nigeria, so that every form of violence might always be avoided, in the constant search of social harmony through the promotion of justice and the common good.
Mary Leone
Dear Jesus, nigeria is a place if beauty but of constant inter tribal strife. My nation UK helped create this by our blundering interference guided by greed. help all leaders of nations learn the lessons of history.
1997
have prayed
Every Christian is called to be a weaver of fraternity. Missionaries and missionaries – priests, consecrated men and women, and lay people – , who sow the Gospel in the great field of the world, are especially so. Let us pray for them and give them our practical support and also for those who are persecuted or kidnapped in various parts of the world.
patnaikv patnaik
Great His Holiness Father pope Francis in the world
Mary Leone
o my jesus i once followed you in complete poverty chastity and obedience to serve your mission. now i am no longer physically strong i go nowhere, meet few people. i still am called to be A missionary of love please show me how.
2156
have prayed
I appreciate that there has been a ceasefire agreement between Armenia and Azerbaijan for humanitarian reasons, in view of reaching a substantial peace accord. I pray and invite prayer for the victims and for all those whose lives are in danger.
Mary Leone
o my Jesus, when I see n TV the destruction to Christian and Muslim families and recall the dreadful massacres carried out in the past history; so much forgivenes is needed for peace to reign. it is hard to firgive please help both sides to do so.
Henry Martínez
God bless all the people in these two nations. 🙏
3812
have prayed
Let's pray for the millions of internally displaced people. Just like Jesus and his parents who fled to Egypt, they live with fear, uncertainty and unease.
Mary Leone
I pray for refugee families making treacherous journeys that they may arrive safely to their hoped for new life. God convert the hearts of people traffickers who abuse them.
Henry Martínez
God bless and protect them all. 🙏
2109
have prayed
Let us ask the Lord for the gift of peace, for a world without arms of mass destruction! Let us dedicate ourselves to free humanity from nuclear arms, this serious threat to the human race.
Celia Fiol
And peace and justice in the USA Tuesday May our Lord deliver us safely from the tyrant occupying our country
Mary Leone
my own nation keeps our economy going by selling arms and weapons, i am so ashamed. Tax on the profits from these shameful deals pays for public health care and education. Holy Mother untier of knots help us out of this tangled web.
3296
have prayed
Let us pray in silence for Don Roberto Malgesini and for all the priests, sisters, lay faithful who work with the needy and those society casts away.
Mary Leone
pray for those in the church who find fault all the time and disseminate distrust of Our shepherd and Holy Father via Internet, TV and media. that they see the harm they do and become more humble and obedient.
Anto Guberac
Molimo za svu braću Misnike❤ Drage sestrice,redovnike i redovnice,misionare❤ Očuvaj ih u svojoj ljubavi Oče!🙏
2771
have prayed
I invite you to pray for students who are seriously deprived of the right to education due to war and terrorism. May efforts that guarantee safe environments for their education not wane, above all in situations of humanitarian crises.
Mary Leone
Dear Jesus as a teacher and a Catholic i see the effects of our imoral society on young minds. Confusion leads to fear and fear to aggression and loss of trust in authority who in their eyes behave badly. bring back the hearts of children to the One Father of their souls.
Eugene Silvaggio
Hello Beatriz, I pray that God will grant you much wisdom and Grace, and Courage to teach what God wants for all your students. May He give you the resources needed to do his will each day, and may God Bless you in everything you do. Amen.
2746
have prayed
I would ask everyone to join in a universal day of prayer and fasting for Lebanon on Friday next, 4 September. Let us pray for Lebanon as a whole and for Beirut. And let us demonstrate our closeness by concrete works of charity.
Mikewwright
Amen. Holy Father my family prays for u and your health and happiness. My family cannot express how much we cherish St. Francis hospital in Tulsa Oklahoma for saving many lives including mine own. Wrights pray and 💘 Dr.Lee. my family prays for Bella Russia and Lebanon do they have peace amen
3121
have prayed
August 22nd - World Day Remembering the Victims of Acts of Violence Based on Religion or Belief was celebrated. Let us pray for these, our brothers and sisters, and let us also sustain with our prayer and solidarity those, and there are many, who today are persecuted because of their faith and religion. There are many.
Eugene Silvaggio
Eugene Silvaggio We turn to you Lord, there is no one else, we ask you please, protect All who Believe and Trust in Your Love and Mercy, All Christians, Let us not be harmed by unjust people oh Lord, only You can Save Us. Our Loving Jesus.
3149
have prayed
I continue to pray for Lebanon, and for other dramatic situations in the world that are causing people to suffer. My thought goes also to dear Belarus. I am following attentively the post-electoral situation in that nation and I call for dialogue, the rejection of violence and the respect for justice and the law. I entrust all Belarusians to the protection of the Madonna, Queen of Peace.
Eugene Silvaggio
My Prayers and my Heart go out to those poor souls in Lebanon and Belarus. Lord, comfort them, grant them perseverance, and may the rest of the Nations be involved to feed, clothe, and take care of the sick, in those regions. We pray this today Lord. Thank you Jesus, Eugene Silvaggio