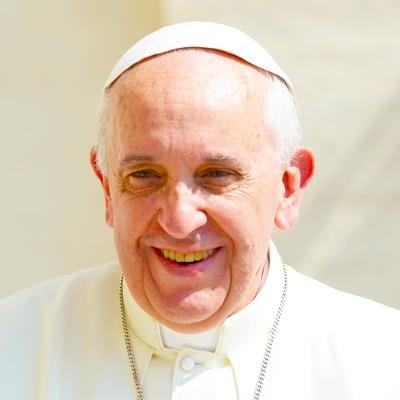 Pope Francis
Vatican
Welcome to the official Click To Pray profile of His Holiness Pope Francis.
1001
have prayed
Nurses are the most numerous healthcare workers, and those closest to the sick, and midwives carry out perhaps the noblest of the professions. Let us pray for all of them, that they may do their precious work in the best possible way.
deanbarnhart
I pyay for my daughters safe delivery and for all those involved at the hospital.
Ziamanina
I ask for prayer today as my dad goes in for surgery. 🙏❤️
3828
have prayed
I would like to ask everyone to pray to the Lord that He will help this people at this difficult time. I am close to the people of Australia.
AnnetteK
God Bless the people and Animals in Australia ❣️🙏
Klaus
Almighty Father, please protect the people, kangaroos, koalas and other animals from the fire and from thirst.
4209
have prayed
Let us pray to the Lord for the victims of yesterday's horrible terrorist attack in Mogadishu in Somalia, where the explosion of a car bomb killed more than 70 people. I am close to their loved ones, and to all who mourn their loss. Let's pray together: Hail Mary.
Anto Antika Guberac
ISUSE!🙏Smiluj se!❤🙏💔
3854
have prayed
I join in the suffering that has struck the dear people of the Philippines due to Typhoon Phanfone. I pray for the numerous victims, for the wounded and for their families. I invite everyone to recite the Ave Maria with me for this people to whom I love so much.
Rosalina Vitales
lord guide us and have mercy on us amen.. spare our country from all kinds of calamities...thank you lord gor all the blessings you have given us and pardon us fir all what we have done wrong....and bless our pope for he can be our guide to our faith...amen
GREGORY ARBUCKLE
STILL, AS ON WE JOURNEY, HELP OUR WEAK ENDEAVOR, TILL WITH THEE & JESUS WE REJOICE FOREVER
5113
have prayed
I accompany that meeting with prayer, an intense prayer, because this peace is needed, and I invite you to do the same so that this initiative of political dialogue leads to the fruits of peace in justice for these territories and their people.
Катерина Немашкало
Дякую ❤️
4113
have prayed
Let us pray for all the pastors of the Church, that they might guide the flock entrusted to them with the same firmness and tenderness of the Good Shepherd.
deanbarnhart
I pray that god directs our leaders (priests) to guide us in our decisions for our work, families and politics.
Annamarie O'Hara
I pray that Fr. Joseph Blenkle is held accountable also for sexual harrassment and misconduct towards me and for touching me innappropriately several times.
2106
have prayed
Let's pray for peace in RDCongo, seriously threatened in the east of the country, where conflicts are fueled from outside, and with the complicit silence of many.
Jinto Philipose
please pray for us
5184
have prayed
I ask you to join in praying each day for the conversion of hearts and for the triumph of a culture of life, reconciliation and fraternity.
GREGORY ARBUCKLE
LET ALL OF MANKIND REALIZE WE ARE CREATED IN GOD'S IMAGE, CHARGED TO LIVE A LIFE OF LOVE, NOT HATE
Anthony Carr
GOD BLESS OUR MAN AND WOMEN SERVING OUR COUNTRY AND PROTECTING US.😇🙏🙏🙏
3311
have prayed
I leave today on my 32nd #ApostolicJourney. Dear friends in Thailand and Japan, before we meet, let us pray together that these days may be rich in grace and joy.
Hsjw Lekekek
....the.holly.virgin..grazie..prayer.for.yours.buon.natale..amen..
3108
have prayed
My thoughts go out to beloved Burkina Faso, where an attack has killed many people. I entrust to the Lord the victims and all those who suffer as a result of such tragedies. I appeal to the Authorities to promote inter-religious dialogue and harmony.
Hsjw Lekekek
....the.holly.virgin..grazie..prayer.for.yours..buon.natale..amen..
Rosalina Vitales
amen...praying for peace . eauvharistic heart of jesus through the infinite value of each holy sacrifice of the mass we offered now and untill the end if time have mercy on us and on the whole world amen