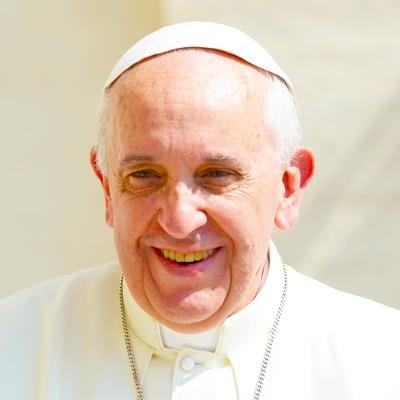 Pope Francis
Vatican
Welcome to the official Click To Pray profile of His Holiness Pope Francis.
47
have prayed
I am near the victims of the flooding that happened in the State of Hidalgo in Mexico, especially to the sick who died in the hospital of Tula and their families.
486
have prayed
I would like to add my own personal thanks to the thousands of catechists throughout the world. I accompany you with my prayer and with my Apostolic Blessing.
B Davey
May the Good Lord bless them and keep them. May he guide them in their holy work. Amen.
edith lambrichts
Today we celebrate the special event of 28 young people who received confirmation in our community; i will ask and thank the Lord for praying for these young people and for the catechists in the hole world
1191
have prayed
Tomorrow I begin my Apostolic Journey to Budapest and Slovakia. I ask everyone to accompany me in prayer, and I entrust this visit to the intercession of so many heroic confessors of the faith, who, amid hostility and persecution, bore witness to the Gospel in those places.
Nguyễn Petros
Xin Chúa cho chuyến đi bình an của cha.
Nerlene Degullado Valenzuela
God bless your Journey....
198
have prayed
New Year's Day is celebrated today in Ethiopia. Let us pray together for the Ethiopian people, particularly for those suffering due to the ongoing conflict and the serious humanitarian situation it has caused. May this be a moment to hear the common desire for peace.
Junzards Perales
🇵🇭May God bless the Eothiopian people with peace. Ginoo, patalinghogi mi.🙏🙏🙏
1037
have prayed
Today as we celebrate the Birth of Mary, let us ask our Mother to help us rediscover the beauty of being God's children, overcoming differences and conflicts, to live as brothers and sisters.
Francisco Jr Castillo Reyes
Happy, Happy Birthday Mama Mary!
1166
have prayed
I pray that many countries will welcome and protect those seeking a new life. That all Afghans, whether at home, in transit, or in host countries, live with dignity, in peace and fraternity with their neighbours. #PrayTogether
770
have prayed
I assure my prayers for the people of the United States of America who have been hit by a strong hurricane in recent days. May the Lord receive the souls of the deceased and sustain those suffering from this calamity.
1277
have prayed
Today we celebrate the World Day of Prayer for the Care of Creation. Let us pray together with our brothers and sisters of various Christian confessions and work for our common home at this time of serious planetary crisis. #SeasonOfCreation
Bharathy
Lord Almighty, we thank you for Mother Earth that you have entrusted to us. We pray that each of us would be more reflective of our actions to safeguard creation and nations would come together for ecological conversion to take place in this world . Mother Mary and St Joseph please pray for us. Amen
Mikewwright
I pray for the sick,the poor,and the lonely. Lord forgive us our short comings and our vanity for we love you lord and will never be alone as long as we do. Amen
1231
have prayed
As Christians the situation in Afghanistan obligates us. In historic moments like this, we cannot remain indifferent. For this reason, I address an appeal to everyone to intensify your prayer and practice fasting, asking the Lord for mercy and forgiveness.
Frits Soons
peace love friendchip
Shi Alham
I pray for all my Arab brothers and sisters in Afghanistan. We Arab Catholics stand in solidarity with you all in the spirit of Christ regardless if you are Muslim, Catholic or anything else❤️
2856
have prayed
Let us pray for Haiti. I want to express my closeness to the dear people hard hit by the earthquake. May the solidarity of all alleviate the consequences of the tragedy!
B Davey
May GOD's will be done and may his saving grace be upon the Haitian people in their time of great need. Amen.