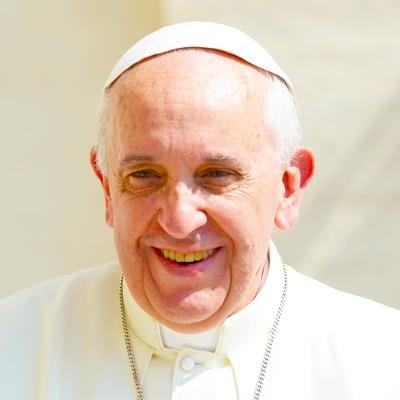 Pope Francis
Vatican
Welcome to the official Click To Pray profile of His Holiness Pope Francis.
3310
have prayed
Let us pray for our Chinese brothers who suffer from this cruel disease. May they find the way to recovery as soon as possible.
Katharine
Спаси, Господи, люди твоя…
Anto Antika Guberac
Molim Te Oče🙏Za braću i sestre Kine!❤ Smiluj se nama!❤
1447
have prayed
I would like us all to pray together right now for beloved and tormented Syria. Many families, many elderly, children, must flee the war. Syria has been bleeding for years. Let us pray for Syria.
Anto Antika Guberac
Molim Te Oče🙏Za braću i sestre Sirije!❤🙏Smiluj se Milosrdni Gospodine!❤
Sarah
We pray to the Lord, hear our prayers.
1841
have prayed
Painful reports are still emerging from northwestern Syria, particularly regarding the plight of so many women and children, as well as of people forced to flee because of a military escalation. Make use of diplomatic channels, dialogue, and negotiation to end the conflict and to safeguard the lives and welfare of civilians. Let us pray for beloved and martyred Syria.
Lydia Alyek
Merciful Lord , touch their hearts to end the war.
1649
have prayed
Saint Bakhita, patron saint of victims of trafficking, faced the pain of slavery and witnessed the freedom and joy of encountering the Lord. Let us pray that all may live this joy and break the chains of slavery. #PrayAgainstTrafficking
2999
have prayed
Today we celebrate the #WorldDayforConsecratedLife. Let us pray for consecrated men and women who dedicate themselves to God and to their brothers and sisters through daily service: may they be ever faithful witnesses of Christ's love.
3293
have prayed
I would like to pray for people who are sick because of the virus that has spread in China. May the Lord welcome the deceased in His peace, comfort families and support the great commitment already put in place to fight the epidemic.
2024
have prayed
In the face of this immense tragedy, this atrocity, we cannot remain indifferent and we have the obligation to remember. We are all invited today to have a moment of prayer and recollection, while repeating, each in their own hearts: never again, never again!
3071
have prayed
Nurses are the most numerous healthcare workers, and those closest to the sick, and midwives carry out perhaps the noblest of the professions. Let us pray for all of them, that they may do their precious work in the best possible way.
5100
have prayed
I would like to ask everyone to pray to the Lord that He will help this people at this difficult time. I am close to the people of Australia.
5092
have prayed
Let us pray to the Lord for the victims of yesterday's horrible terrorist attack in Mogadishu in Somalia, where the explosion of a car bomb killed more than 70 people. I am close to their loved ones, and to all who mourn their loss. Let's pray together: Hail Mary.
Anto Antika Guberac
ISUSE!🙏Smiluj se!❤🙏💔