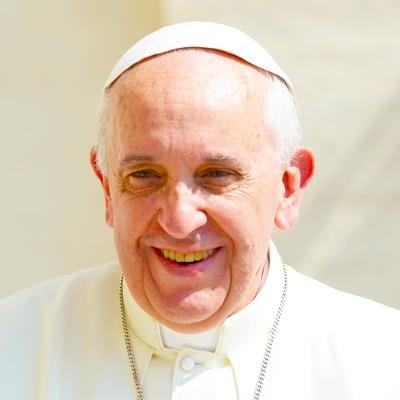 Pope Francis
Vatican
Welcome to the official Click To Pray profile of His Holiness Pope Francis.
1424
have prayed
Let us pray for all the pastors of the Church, that they might guide the flock entrusted to them with the same firmness and tenderness of the Good Shepherd.
Mikewwright
Holy father help us pray for all souls for we all need love and mercy.amen
M KT Nollins
praying that priests will help parents see their children with greater love.
888
have prayed
Let's pray for peace in RDCongo, seriously threatened in the east of the country, where conflicts are fueled from outside, and with the complicit silence of many.
Mikewwright
Lord give us the sight too see each other's souls and teach us love amen
Rosalina Vitales
eaucharistic heart of jesus we put our trust in you save the whole world and spare the young on any danger and harm evryday amen....
3110
have prayed
I ask you to join in praying each day for the conversion of hearts and for the triumph of a culture of life, reconciliation and fraternity.
Hsjw Lekekek
....thank.you.for.prayer.i.m.not.fr om.romania..i.m.kidnnated..the.holly.virgin.mary..in.a.house..i.have.i.m.from.state.united.of.amerika..of.north..
Rosalina Vitales
eaucharistic heart of jesus with all our heart we love you guide us all your people of all mankind amen
2520
have prayed
I leave today on my 32nd #ApostolicJourney. Dear friends in Thailand and Japan, before we meet, let us pray together that these days may be rich in grace and joy.
Rosalina Vitales
eaucharistic heart of jesus thank you for the personal love you have for us in the blessed sacrament lord guide and bless our pope for his journey on your will amen
Terran Military
lord god, please forgive the japanese for their faith. such forgiveness i pray, can be delivered upon their acceptance of the Holy Eucharist, and that they kneel on bogh knees, whereas the triarii kneel upon one as do all daimyo. with wisdom, the way of service will be seen as one from before..
2455
have prayed
My thoughts go out to beloved Burkina Faso, where an attack has killed many people. I entrust to the Lord the victims and all those who suffer as a result of such tragedies. I appeal to the Authorities to promote inter-religious dialogue and harmony.
Rosalina Vitales
amen...praying for peace . eauvharistic heart of jesus through the infinite value of each holy sacrifice of the mass we offered now and untill the end if time have mercy on us and on the whole world amen
2035
have prayed
I am close to Armenian Catholics of Qamishli, in Syria, as they gather for the funeral of their parish priest, Father Hovsep Bedoyan, who was killed yesterday together with his father. I pray for them, their families, and for all Christians in Syria.
soulcross
Dear Lord, we thank you for the many blessings we have, the joy of religious freedom, hear the cry of those being persecuted for being Christians. May their heart soften.
JoAnne Way
Eternal Father I offer Thee the Most Precious Blood of Thy Divine Son Jesus in union with the Masses said through out the world today for all the holy souls in purgatory, for sinners everywhere, for sinners in the Universal Church, those in my own home and within my family. Amen
3161
have prayed
Dear friends, in this month of November, we are invited to pray for the dead. Let us entrust our family members, friends and acquaintances to God, especially in the Eucharist, feeling them close to us in the spiritual company of the Church. #GeneralAudience
Rosalina Vitales
may all souls in porgatory be forgiven and may they all in our lords glory in heaven... eaucharistic heart of jesus make us one in mind heart and souland will with you the father and hily soirit amen
2045
have prayed
I am saddened by the violence against Christians in the Tewahedo Orthodox Church of Ethiopia. I express my closeness to this Church and to the Patriarch, dear brother Abuna Matthias, and I ask you to pray for all the victims of violence in that land.
Rosalina Vitales
lord pls.help them all.. eaucharistic heart of jesus yhy kingdom come hear our prayer amen
Anto Antika Guberac
Isuse!🙏❤ Smiluj se braći i sestrama Etiopije!💔🙏
2999
have prayed
In these last days of October, I invite you to pray the #HolyRosary for the mission of the Church today, especially for men and women missionaries who encounter the greatest difficulties. #MissionaryOctober
Rosalina Vitales
eaucharistic heart of jesus burning with love for us inflame our heart with love for you that every one will do your will and oray always the holy rosary with the intercesion of our mother the virgin mary amen
Rosalina Vitales
lord thank you very much mama mary our mother of untier of knots thank you for praying for us to be spared from the threatening of thyphoon ...amen
6946
have prayed
My thoughts go once more to the Middle East. In particular to the beloved and tormented Syria, from which tragic news is once again arriving with regard to the fate of the populations in the North-East of the country, among these populations there are also many Christian families.
Rosalina Vitales
praying for all people in seria eaucharistic heart of jesus we adore you and we praise you in union with the nine choires of angels pls.help all of you mankind creatures on earth amen
Imelda.bennett
Imelda Bennett :please pray for baby Charlotte she is in icu since birth 2 months now Lord be merciful.