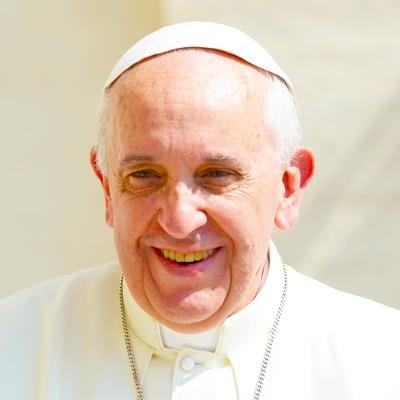 Pope Francis
Vatican
Welcome to the official Click To Pray profile of His Holiness Pope Francis.
1586
have prayed
On the anniversary of my visit to Lampedusa, let us pray that we might discover the face of Jesus in all people forced to flee their homeland because of the many injustices that continue to afflict our world.
estrenger
Let us see the faces of the Holy Family as they were forced to flee in the dead of night leaving most of their possessions and all their loved ones behind to live in Egypt.
3033
have prayed
Let us pray for the Conference of the European Union and the United Nations, so that it may improve the dramatic situation of the Syrian people and neighbouring peoples, particularly Lebanon, in the context of serious socio-political and economic crises that have been made even more difficult by the pandemic.
1539
have prayed
I invite everyone to pray for the people of Yemen, especially children, who are suffering as a result of the very serious humanitarian crisis, and for those affected by the severe floods in Western Ukraine.
Brenda Harris
Our souls are restless unless they rest in you , Lord Jesus Christ. Let our restless armies return home so that their bodies will have the opportunity to rest in their own homes.
Deepa Immanuel
🙏🙏Have mercy on us oh lord.Amen.
3010
have prayed
I invite you to join me in praying for a renewed and effective commitment, on the part of us all, to the effective protection of every human being, especially those who have been forced to flee as a result of situations of grave danger to them or their families.
Joseph Thomas
Amen. By the waters of Babylon, there we sat down and wept, when we remembered Zion. How shall we sing the Lord's song in a foreign land? Psalms 137 I was a stranger and you welcomed me Matthew 25:35
🇵🇭vergaraE
🙏🙏🙏Amen #PrayTogether
2663
have prayed
I invite you to pray for priests, so that through your prayer the Lord might strengthen their vocation, comfort them in their ministry, and help them always be joyful ministers of the Gospel for all people.
Gordon E Morris
Heavenly Father we pray for our priests that they continue in faithfulness, trusting in your love and mercy as they face the challenges of today. May Mary our Mother intercede for them to be courageous and persevering in their vocation.
Joseph Caruana
Joe Caruana: I pray especially for my two priests sons so that The Holy Sacred Hearts of Jesus and Mary keep them safe in their Hearts.
2682
have prayed
I urge international bodies and those who have political and military responsibilities to search for a path to peace in Libya. I pray for the thousands of migrants, refugees and internally displaced persons and call on the international community to take their plight to heart.
gilson mulloor
Amen, Halleluia.
Deepa Immanuel
May the leaders see the pain of refugees and migrants and give them comfort in their life .Lord we pray with Pope and whole world for them.Thank you Jesus.Amen.
4136
have prayed
The month of June is dedicated in a special way to the Heart of Christ, a devotion that unites the great spiritual teachers and the simple among the people of God. A beautiful prayer, short, to pray during this month: "Jesus, may my heart resemble yours".
3555
have prayed
We cannot tolerate or turn a blind eye to racism and exclusion in any form. At the same time, we have to recognize that violence is self-destructive and self-defeating. Nothing is gained by violence and so much is lost. Let us pray for reconciliation and peace.
SunBurn9T
So many suffer from this here in the US.
2378
have prayed
Let us invoke the Holy Spirit. May He might give light and strength to the Church and society in the Amazon region, sorely tried by the pandemic. I pray for the poorest of that precious Region and the world. And I plead that they may not lack health care.
gilson mulloor
Hear our prayer,Lord.
4371
have prayed
I invite all people of goodwill to join in the Laudato Si Year, to care for our common home and our most vulnerable brothers and sisters. Let us pray.