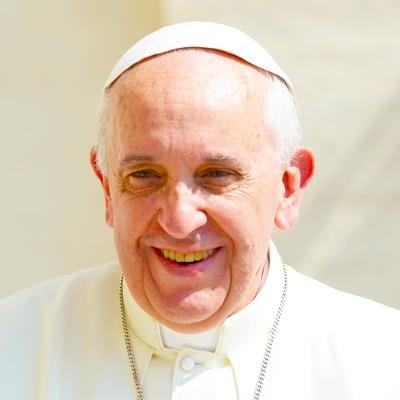 Pope Francis
Vatican
Welcome to the official Click To Pray profile of His Holiness Pope Francis.
3488
have prayed
My thoughts go once more to the Middle East. In particular to the beloved and tormented Syria, from which tragic news is once again arriving with regard to the fate of the populations in the North-East of the country, among these populations there are also many Christian families.
1342
have prayed
I entrust it to our common prayer and to the intercession of the new Saints, and I unite myself to the grief for the dead, the wounded and the dispersed. I encourage the seeking of social peace, with particular attention to the most vulnerable populations, to the poor and to human rights.
Jacqueline James
Amen...🙏🏾
2878
have prayed
I ask you to accompany this important ecclesial event with prayers, so that it may be experienced in fraternal communion and docility to the Holy Spirit, who always shows the ways for bearing witness to the Gospel.
Jacqueline James
Amen...🙏🏾
3141
have prayed
I invite everyone to pray so that this dialogue might be fruitful and lead to peaceful, just and lasting solutions, to everyone's benefit
Jacqueline James
Amen...🙏🏾
Viktoria Ondrejova
the ex prime minister, right?
4239
have prayed
I also join in my prayer the memory of those who are affected by cancer, that they too may always be more supported, both in the prevention and in the care of this disease.
2731
have prayed
Let us pray for the conversion of hearts and for those who suffer from Alzheimer's, for their families and for those who lovingly care for them.
Jacqueline James
Amen...🙏🏾
5509
have prayed
I invite you, each within your own heart, to pray for our brothers and sisters who have lost their lives or who are suffering because of the hurricane in the Bahamas.
Jacqueline James
Amen...🙏🏾
3352
have prayed
I invite you all to join in my prayer so that God, Father of all, may consolidate fraternal reconciliation in Mozambique and all over Africa, the only hope for a solid and lasting peace.
Jacqueline James
Amen...🙏🏾
3325
have prayed
Now is the time to rediscover our vocation as children of God, brothers and sisters, and stewards of creation. In this #SeasonOfCreation, I invite everyone to dedicate themselves to prayer.
Jacqueline James
Amen...🙏🏾
2897
have prayed
We are all worried about the vast fires that have developed in the Amazon. Let us pray that, with everyone's commitment, they may be tamed as soon as possible. That lung of forest is vital to our planet.
Jacqueline James
Amen...🙏🏾