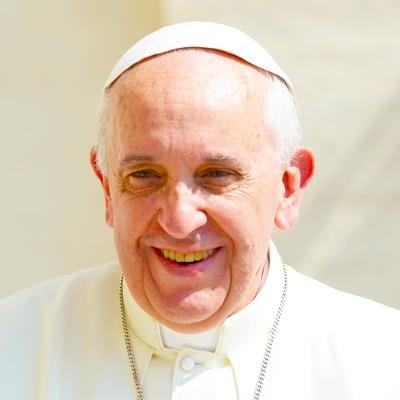 Pope Francis
Vatican
Welcome to the official Click To Pray profile of His Holiness Pope Francis.
479
have prayed
Let us pray constantly that the Israelis and Palestinians may find the path of dialogue and forgiveness. Let us pray for the victims, in particular for the children; let us pray for peace.
Teresa Burns
May God bless Israel and Palestine with Shalom.
483
have prayed
The family is the harmonious union of the differences between man and woman, capable of opening themselves to life and to others. Let us pray together for families so that they might remain united throughout these difficult times and lend a hand to those in need.
1142
have prayed
I would like to express my concern for the tensions and violent clashes in Colombia, which have caused deaths and injuries. We pray together.
Maria Mohan
Lord, we pray for our brothers and sisters in Colombia.
908
have prayed
And let us pray for the victims of the terrorist attack that took place yesterday in Kabul: an inhumane action that struck so many girls as they were leaving school. Let us pray for each one of them and for their families. And may God give peace to Afghanistan.
🇵🇭vergaraE
Prayer for people of Kabul, Afghanistan, Lord God bless their wounded heart,Amen #PrayTogether🙏
Teresa Burns
Mother of Peace, pray for us.
577
have prayed
I pray that Jerusalem may be a place of encounter and not of violent clashes, a place of prayer and peace. I invite everyone to seek shared solutions so that the multireligious and multicultural identity of the Holy City is respected and brotherhood prevails.
Colleen Burns-Calton
Amen 🙏 🙏 🙏
1779
have prayed
With sadness I express my sympathy to the people of Israel for the accident which took place last Friday on Mount Meron, killing 45 people and injuring many. I assure you of my remembrance in prayer for the victims of this tragedy and for their families.
🇵🇭vergaraE
🙏Prayer for the victims and their respective family, Amen.
Laura Krenz
May their memories be a blessing to their families.
940
have prayed
Let us ask our Mother of Heaven to speak to the hearts of all leaders in Myanmar, so that they may find the courage to walk the path of encounter, of reconciliation, and of peace. #Rosary
🇵🇭vergaraE
Prayer for Peace and Unity at Myanmar, Amen🙏
Bharathy
We continue to pray for the citizens of Myanmar and the recent victims who were killed that God would grant them perpetual peace.
1807
have prayed
I am near to the victims of the fire in the hospital for Covid patients in Baghdad. As of now, there are 82 people who have died. Let us pray for all of them.
🇵🇭vergaraE
🙏🙏🙏#PrayTogether
Bharathy
We pray for this tragedy when sick in the hospital die of another reason. May their souls be at peace and their families consoled.
1033
have prayed
I express my nearness to the people living on the Islands of St Vincent and the Grenadines where the volcanic eruption is causing harm and difficulties. I assure you of my prayers. I bless all those who are participating in relief efforts and assistance.
1013
have prayed
Today, the entire Church celebrates the World Day of Prayer for Vocations. Let us thank the Lord so that he might continue to raise up in the Church people who, for love of Him, consecrate themselves to the proclamation of the Gospel and service to their brothers and sisters.
Bharathy
We pray for that more young men and women would respond to God's call for religious life