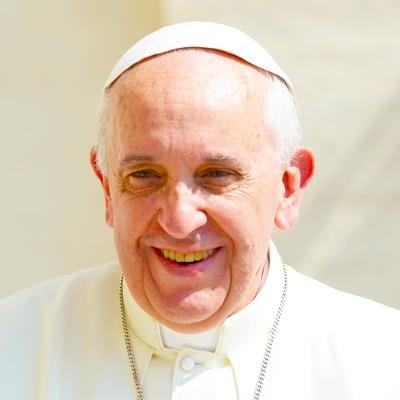 Pope Francis
Vatican
Welcome to the official Click To Pray profile of His Holiness Pope Francis.
1039
have prayed
Every Christian is called to be a weaver of fraternity. Missionaries and missionaries – priests, consecrated men and women, and lay people – , who sow the Gospel in the great field of the world, are especially so. Let us pray for them and give them our practical support and also for those who are persecuted or kidnapped in various parts of the world.
🇵🇭vergaraE
❤On this special day of (Pope) St. John Paul II, we ask for his intercession of Pope Francis' prayer for World Mission Day #PrayTogether Amen🙏
Marie Carter
I thank you for Pope Francis, the way he brings peace and reassurance to people.
1588
have prayed
I appreciate that there has been a ceasefire agreement between Armenia and Azerbaijan for humanitarian reasons, in view of reaching a substantial peace accord. I pray and invite prayer for the victims and for all those whose lives are in danger.
Francis Lai
Praying for peace too in Armenia and Azerbaizan from Malaysia.
3379
have prayed
Let's pray for the millions of internally displaced people. Just like Jesus and his parents who fled to Egypt, they live with fear, uncertainty and unease.
Anto Guberac
ISUSE!❤🙏Molim Te za braću i sestre Armenije i Azerbejdžana!💔🙏
🇵🇭vergaraE
🙏🙏🙏Amen #PrayTogether
1733
have prayed
Let us ask the Lord for the gift of peace, for a world without arms of mass destruction! Let us dedicate ourselves to free humanity from nuclear arms, this serious threat to the human race.
Peter mc
To pray for lasting peace between Armenia and Azerbaijan Dear Lord, move the hearts and minds of the leaders of both nations to cease creating harm, fear and destruction and bring about a peaceful lasting resolution for its people. May the Lord hear our prayer. Amen.
Brendan D
May the Lord God Almighty guide us away from devising more and more inventive ways of annihilating ourselves. Amen.
3017
have prayed
Let us pray in silence for Don Roberto Malgesini and for all the priests, sisters, lay faithful who work with the needy and those society casts away.
Anto Guberac
Molimo za svu braću Misnike❤ Drage sestrice,redovnike i redovnice,misionare❤ Očuvaj ih u svojoj ljubavi Oče!🙏
Reidun Fynø
We pray for our priests and out concregasion. Especially for p. Herbert, p. Medister and Jimmi, that they go free from the Corona virus
2533
have prayed
I invite you to pray for students who are seriously deprived of the right to education due to war and terrorism. May efforts that guarantee safe environments for their education not wane, above all in situations of humanitarian crises.
Eugene Silvaggio
Hello Beatriz, I pray that God will grant you much wisdom and Grace, and Courage to teach what God wants for all your students. May He give you the resources needed to do his will each day, and may God Bless you in everything you do. Amen.
Eugene Silvaggio
Dear Jesus, help this world to work towards a better life for All. Increase our efforts in educating and feeding the poor, may our Hearts burn with your generosity and follow in your footsteps to increase our giving towards those who need it most. Thank you Jesus, amen.
2546
have prayed
I would ask everyone to join in a universal day of prayer and fasting for Lebanon on Friday next, 4 September. Let us pray for Lebanon as a whole and for Beirut. And let us demonstrate our closeness by concrete works of charity.
Mikewwright
Amen. Holy Father my family prays for u and your health and happiness. My family cannot express how much we cherish St. Francis hospital in Tulsa Oklahoma for saving many lives including mine own. Wrights pray and 💘 Dr.Lee. my family prays for Bella Russia and Lebanon do they have peace amen
2936
have prayed
August 22nd - World Day Remembering the Victims of Acts of Violence Based on Religion or Belief was celebrated. Let us pray for these, our brothers and sisters, and let us also sustain with our prayer and solidarity those, and there are many, who today are persecuted because of their faith and religion. There are many.
Eugene Silvaggio
Eugene Silvaggio We turn to you Lord, there is no one else, we ask you please, protect All who Believe and Trust in Your Love and Mercy, All Christians, Let us not be harmed by unjust people oh Lord, only You can Save Us. Our Loving Jesus.
3008
have prayed
I continue to pray for Lebanon, and for other dramatic situations in the world that are causing people to suffer. My thought goes also to dear Belarus. I am following attentively the post-electoral situation in that nation and I call for dialogue, the rejection of violence and the respect for justice and the law. I entrust all Belarusians to the protection of the Madonna, Queen of Peace.
Eugene Silvaggio
My Prayers and my Heart go out to those poor souls in Lebanon and Belarus. Lord, comfort them, grant them perseverance, and may the rest of the Nations be involved to feed, clothe, and take care of the sick, in those regions. We pray this today Lord. Thank you Jesus, Eugene Silvaggio
2033
have prayed
Today I would like to pray in particular for the population of the northern region of Nigeria, victim of violence and terrorist attacks.
Anto Guberac
Smiluj se ISUSE 🙏❤🙏braći i sestrama Nigerije!💔🙏
gilson mulloor
Let the Holy Spirit grant them repentance and faith.