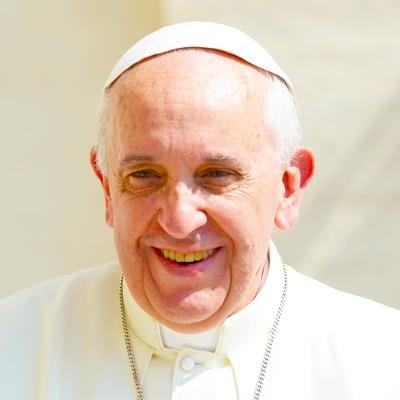 Pope Francis
Vatican
Welcome to the official Click To Pray profile of His Holiness Pope Francis.
778
have prayed
I am especially close to the population of the Tigray region in Ethiopia, struck by a grave humanitarian crisis that could expose the poorest people to famine. Let us pray together that the violence may cease immediately, that food and heath assistance be guaranteed to everyone, and that social harmony be restored as soon as possible.
frank obrien
O Loving and merciful Father, Soften the hearts of those people who by their actions cause suffering to the weakest and most vulnerable of our fellow human beings. We earnestly ask this through our Lord and Saviour, Jesus Christ
Rafael Jonathan Monterroso Cárcamo
Thank you Jesus for teaching us to love, please Our Father, Jesus and Holy Spirit forgive our brothers and sisters in Tigray Ethiopia and please give your Divine Mercy. Jesus I trust you!!!
1226
have prayed
I join the Canadian Bishops and the whole Catholic Church in Canada in expressing my closeness to the Canadian people. We commend to the Lord the souls of all the children who have died in the Canadian residential schools, and we pray for the grief-stricken indigenous families and communities of Canada.
Bharathy
We pray for the souls of the little ones who died in the residential school and for the indigenous community of Canada. Beloved Mother Mary pray for them, St Joseph intercede for them and Holy Angels watch over them. Amen.
Junzards Perales
🇵🇭Ginoo, patalinghogi mi.🙏🙏🙏
863
have prayed
Let us pray together for the victims of the massacre that took place in a village of Burkina Faso. I am close to the family members and all the Burkinabé people suffering greatly because of these repeated attacks. Africa needs peace, not violence!
Junzards Perales
🇵🇭Ginoo, patalinghogi mi.🙏🙏🙏
Mikewwright
I pray they find their way to peace
1640
have prayed
This coming 1 July I will meet in the Vatican with the principal leaders of the Christian communities present in Lebanon. I entrust this intention to the intercession of the Mother of God, deeply venerated at the Shrine of Harissa, and from this moment on I ask you to accompany the preparation for this event with supportive prayer, invoking for that beloved country a more peaceful future.
jeremysleiman
O Lord, may Your light of peace, forgiveness and love always shine on Lebanon and her people. Our Lady of Lebanon pray for us... Amen 🙏🏼❤️ 🇱🇧
Linda Luna
Jesus protect the Pope from all evil,give him health of body and soul,and also I pray for all intentions of Mother Mary 🙏🙏🙏
1896
have prayed
On the Feast of the Blessed Virgin Mary, Help of Christians, let us pray together for our dear brothers and sisters in China. May the Holy Spirit guide and help them to be bearers of the happy message, witnesses of charity, and builders of justice and peace in their country.
Michael Esters
🙏🙏 Amen for our Christian brothers and sisters in China.
1222
have prayed
Let us pray for the populations of the city of Goma, in the Democratic Republic of Congo, forced to flee due to the eruption of the great volcano, Mount Nyiragongo.
1018
have prayed
Let us pray together for the situation in Colombia, which continues to be worrying. I exhort everyone to avoid, for humanitarian reasons, behaviours that are damaging for the population in exercising the right to peaceful protest.
1206
have prayed
Today we celebrate the Vigil of Pentecost will be celebrated in Saint Stephen's Church in Jerusalem to implore the gift of peace. Let us pray together, pleading to the Holy Spirit so that Israelis and Palestinians may be open to living together as brothers and sisters.
Junzards Perales
🇵🇭Ginoo, patalinghogi mi.🙏🙏🙏
simon dsouza
As there is a ceasefire between Israel and Palestine, let good will prevail and both live side by side as sisters and brothers, also same in our country
1021
have prayed
Let us pray together today for victims of the climate crisis and continue to work so that the earth may truly be a common home where everyone can have their place.
Bharathy
We pray that there is a greater awareness among mankind and especially in our Catholic Church to protect God's creation and be good stewards of our common home. We also pray for the poor whose livelihood is affected by climate change.
1678
have prayed
Let us pray constantly that the Israelis and Palestinians may find the path of dialogue and forgiveness. Let us pray for the victims, in particular for the children; let us pray for peace.
Bharathy
We pray for the victims especially for the loss of Innocent lives and the grieving families. We thank God for the ceasefire and pray for peace to prevail.
michesandovalp
Let us pray so that humans can see each other's as brothers and sisters and no as your enemy. God bless Palestine and Israel.