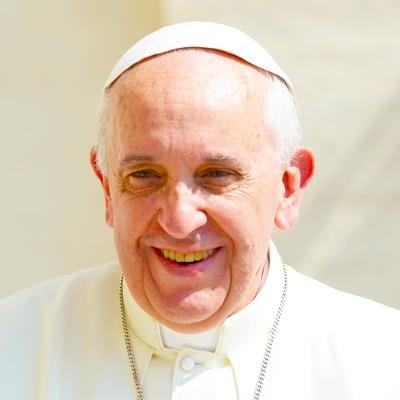 Pope Francis
Vatican
Welcome to the official Click To Pray profile of His Holiness Pope Francis.
350
have prayed
I am near to the dear Cuban people in these difficult moments, in particular to those families suffering the most. I pray that the Lord might help the nation construct a society that is more and more just and fraternal through peace, dialogue and solidarity. I urge all Cubans to entrust themselves to the maternal protection of the Virgin Mary of Charity of Cobre.
Giuse Maria Laduonglam
Amen
Giuse Maria Laduonglam
Amen
824
have prayed
I remember in prayer the people who have lost their lives and expresses my profound closeness to their families. I pray especially for the people who are still missing, for the wounded, and for those whose property has suffered damage or been lost due to the power of nature.
Junzards Perales
🇵🇭Ginoo, dunggan among mga pag-ampo.🙏🙏🙏
Bharathy
Jesus Divine Mercy, illuminate the people of Germany who are suffering right now due to the floods with your rays of mercy. Grant them hope and grace during this difficult times. Eternal rest to the souls who lost their lives and consolation to the families. Beloved Mother intercede for Germany.
870
have prayed
I assure my spiritual closeness to all affected by the tragic fire at the Covid isolation ward of the al-Hussein hospital in Nasiriyah. I pray especially for those who have died and for the comfort of their families and friends who mourn their loss.
Mikewwright
Holy Father we are so happy your on mend. may your recovery be easy and fast we pray for you Holy Father and love you
Devinder Hayre
Metallic wood strong as titanium and better than blocks should be used for building hospitals lighter
985
have prayed
Let us pray for all the sick that may no one be left alone, that everyone receive the anointing of listening, closeness and care. We can all give it with a visit, a phone call, an outstretched hand.
Ofelia Cuevas
yes heavenly father please heal my dad Luis Cuevas cover him and me and my entire family with your precious blood
Mikewwright
Holy Father I pray for your health and happiness you are our light in this world
794
have prayed
In recent days my prayer has often been aimed at Haiti. I join in the heartfelt appeal of the country's Bishops. I am close to the beloved Haitian people; I hope that the spiral of violence will cease and the nation can resume the journey toward a future of peace and harmony.
Devinder Hayre
Use incense nag champa incense satya sai baba
Devinder Hayre
Ask the Church of England to take control
604
have prayed
Today is "Sea Sunday", dedicated in a particular way to seafarers and to those whose source of work and sustenance is the sea. I pray for them and exhort everyone to take care of the oceans and seas. Take care of the health of the seas: no plastic in the sea!
Devinder Hayre
Rum is best for sea fares
1630
have prayed
From the next 12 to 15 September, God willing, I will travel to Slovakia. First, I will celebrate the concluding Mass of the International Eucharistic Congress in Budapest. Let us all pray for this journey and for the people who are working to organize it.
🇵🇭vergaraE
God bless you Pope Francis🙏🙏🙏Prayer for your good health always
Bose Peter-Thomas
We wish Pope Francis, speedy recovery and pray that he made this journey only if God permit it and give him the strength to make it in September.
1427
have prayed
I invite you all to join spiritually with us, praying that praying that Lebanon may recover from the serious crisis it is going through and show the world once again its face of peace and hope.
Monica Garcia
Pray for my children to forgive each other and reconnect in order for them to have the love they share. Keep all families together
Devinder Hayre
Come into harmony with the lord
1219
have prayed
I assure my closeness to the populations of South-west of the Czech Republic struck by a strong hurricane. I pray for the departed and the injured and for those who have had to leave their seriously damaged homes.
clare probert
my message be the peace, feel peace and correct sin
Devinder Hayre
Use my other comments
302
have prayed
On the occasion of today's Day of prayer for peace in the Middle East, I invite everyone to implore God's mercy and peace in that region, where the Christian faith was born and is alive, despite the suffering.
clare probert
trump cannot be pop resident again he shareholder in tesla weapons, his intention was to keep me prisoner direct energy weapon and he thinks he has life front of God. i pray he sees the light peace
Devinder Hayre
President Trump administration brought in quite a big peace deal Pope Francis can help with a worldwide ceasefire after coronavirus the United Nations said yes the only country that veto is one of them only all the world agreed please hold one for Middle East's peace