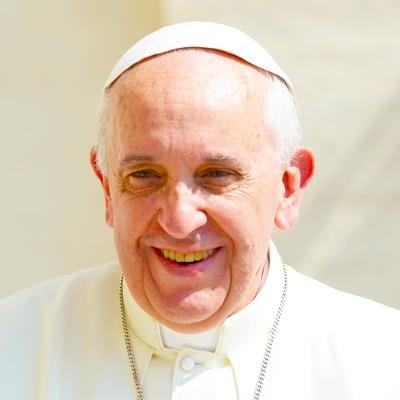 Pope Francis
Vatican
Welcome to the official Click To Pray profile of His Holiness Pope Francis.
1062
have prayed
We pray for those who live with severe illness. Let us always safeguard life, God's gift, from its beginning until its natural end. Let us not give in to a throwaway culture.
John Snyder
Each life is infinately precious.
1085
have prayed
On this World Day of Prayer for Vocations, let us join in prayer and ask the Lord to help us discover his plan of love for our lives, and to grant us the courage to walk in the path that, from the beginning, he has chosen for each of us. #Vocations
RodlahStaffMaster
In the midst of all who request your prayers & blessings, I pray for you, Your Holiness, that you discern our Lord's will for you, for our Holy Catholic Church, and that through you, many more will come to believe🙏❤️🙏
Pat McKenna
Please pray for all couple's who cannot have children and are broken hearted .Please pray for all women who have abortions.
964
have prayed
I ask you to accompany with your prayers my journey to Bulgaria and North Macedonia, which I begin tomorrow as a pilgrim of peace and fraternity. #ApostolicJourney
angela musiema
ti voglio bene papa francesco
Mariejack Mariejack
may god bless our holy father with good health and keep him safe in his care. 🙏♥️🙏
713
have prayed
Let us pray that the Church in Africa, through the commitment of its members, may be the seed of unity among her peoples and a sign of hope for this continent.
Kb Infosolutions
Biju George amen
Tina Estrada
Amen God bless your journey.
650
have prayed
We pray for those who have lost their lives, or who have suffered serious damage and injury from the recent floods in South Africa.
Phạm Nguyễn Hải Đăng
Amen🙏🏻🙏🏻🙏🏻🙏🏻🙏🏻🙏
Christlyn
Lord hears our prayers. Amen
554
have prayed
I invite you to join me in praying for those refugees who are in detention centers in Libya: their very serious situation is made even more dangerous as a result of the ongoing conflict.
egondeur
I saw a documentary on that subject. Jesus please have mercy on us, especially in the West where we cause troubles in Africa and then ignore the refugees who are trying to get away from problems they did not cause.
747
have prayed
Let us join in prayer with the Christian community of Sri Lanka, which was struck by terrible violence on Easter Sunday. We entrust to the risen Lord the victims, the wounded and all the suffering. #PrayForSriLanka
Cau Nguyen 271
Xin Chúa chúc lành cho Sri Lanka thân yêu!
663
have prayed
I renew my appeal to young people and to all of us to pray the Rosary for peace, especially for peace in the Holy Land and in the Middle East.
Tina Estrada
Papa, thank you for helping me pray more. Bless all people in Palestine.
696
have prayed
Let us pray for doctors and their humanitarian collaborators in war-torn areas, who risk their lives to save the lives of others.
558
have prayed
Dear brothers and sisters, following in the footsteps of my holy predecessor John Paul II, on Saturday and Sunday I will be in Morocco as a pilgrim of peace and fraternity. I ask you to accompany me in prayer. #ApostolicTravel
Rena Forgeron
Father our bless please Marocco my Friend Karim and all his Family and Friends 🙏🙏🙏Thank You Papa Francesco for Your dialogue❤️Thank You Holy Papa Jean Paul II ❤️pray with us and with Holy Mary please 🙏