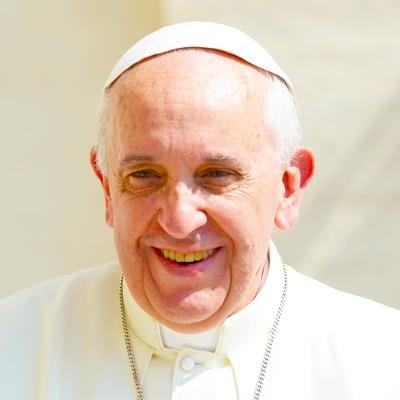 Pope Francis
Vatican
Welcome to the official Click To Pray profile of His Holiness Pope Francis.
874
have prayed
I want to assure a remembrance in prayer for the victims of the flooding in these past days that has hit Indonesia and East Timor. May the Lord welcome the deceased, comfort their families and support those who have lost their homes.
Mikewwright
Holy Father pray for those who have died for us and for the world. let us not forget. For those that my die for us in the future we honnor and love you.Amen
726
have prayed
I am close to you and I want a definitive resolution to your problems. I am praying for this, dear Haitian brothers and sisters.
Teresa Burns
May the Prince of Peace fill the people of Haiti with the Spirit of peace and guide them in the ways of love.
2011
have prayed
Let us pray for all the victims of violence, in particular the victims of this morning's attack in Indonesia, in front of the Cathedral of Makassar
Annette Keyser
Amen🙏☦️✝️🕊️❤️
1145
have prayed
Pray together for the victims and those reported missing because of the terrible fire that broke out in a Rohingya refugee camp in Bangladesh, which generously welcomed thousands of people. Let us pray for the twenty thousand brothers and sisters, who lost the little they had.
452
have prayed
I learned with sorrow the news of the recent terrorist attacks in Niger. Let us pray for the victims, for their families and for the entire population so that the violence suffered may not cause them to lose trust in the path of democracy, justice and peace.
Henry Martínez
May the Lord be with them 🙏
1856
have prayed
The Amoris Laetitia Year of the Familiy: a special year to grow in family love. I call for a renewed and creative pastoral drive to place the family at the centre of the attention of both Church and society. I pray that every family may feel in its own home the living presence of the Holy Family of Nazareth.
Bharathy
We lift up all families especially for troubled families that they would come to experience the love of God and grow in faith. Dear Mother Mary and St Joseph pray for all families to be united. Amen
1188
have prayed
Through the intercession of Our Lady of Miracles of Caacupé, I ask the Lord Jesus, Prince of Peace, that a path of sincere dialogue may be found to find adequate solutions to the present difficulties, and thus build together the longed-for peace. Let us remember that violence is always self-destructive. Nothing is gained through it.
Junzards Perales
🇵🇭Ginoo, nangamuyo 'mi nimo, dungga among mga pag‐ampo.🙏🙏🙏
🇵🇭vergaraE
🙏#PrayTogether with Pope Francis for Paraguay
1512
have prayed
Ten years ago, the bloody conflict in Syria began that has caused one of the most serious humanitarian catastrophes. Let us #PrayTogether so that all the suffering experienced by beloved and tortured Syria might not be forgotten and so that our solidarity might revive their hope.
Henry Martínez
May the Lord be with them
Junzards Perales
🇵🇭Ginoo, patalinghogi 'mi. Amen.🙏🙏🙏
2345
have prayed
Let us now join in praying for all the victims of war. May Almighty God grant them eternal life and unending peace, and welcome them into his fatherly embrace. Let us pray too for ourselves. May all of us – whatever our religious tradition – live in harmony and peace, conscious that in the eyes of God, we are all brothers and sisters.
Junzards Perales
🇵🇭 Ginoo, patalinghogi 'mi. Amen.🙏🙏🙏
Beatrice Parwatikar
I pray for peace because you can't rebuild in war.
2122
have prayed
The day after tomorrow, God willing, I will go to Iraq for a three-day pilgrimage. I ask you to accompany this apostolic journey with your prayers, so that it may unfold in the best possible way and bear the hoped-for fruits. Let us pray that this journey will be a good one.
Beatrice Parwatikar
Thank you Pope Francis for making this journey for peace and sign of God's love.
Rosalina Vitales
lord..pls.keep safe our pope amen