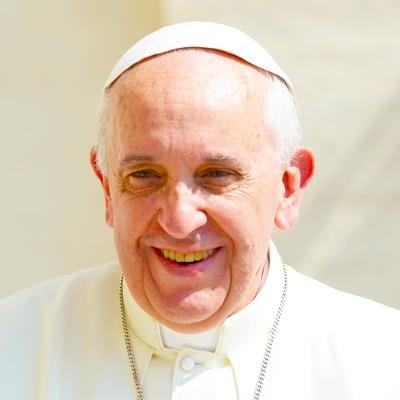 Pope Francis
Vatican
Welcome to the official Click To Pray profile of His Holiness Pope Francis.
649
have prayed
My thoughts go out to beloved Burkina Faso, where an attack has killed many people. I entrust to the Lord the victims and all those who suffer as a result of such tragedies. I appeal to the Authorities to promote inter-religious dialogue and harmony.
Bernadette Kennedy
I offer my Rosary for victims and families. Lord he our communal prayer.
Saul Gallegos
pope I pray for all that needs u in this evil world of hate for one another in the middle east lost souls are killing each other ...we all need to unite as brothers and sister as one love amen lord
764
have prayed
I am close to Armenian Catholics of Qamishli, in Syria, as they gather for the funeral of their parish priest, Father Hovsep Bedoyan, who was killed yesterday together with his father. I pray for them, their families, and for all Christians in Syria.
Loretta Jeanette
may his soul and all souls rest in god pea amen
2094
have prayed
Dear friends, in this month of November, we are invited to pray for the dead. Let us entrust our family members, friends and acquaintances to God, especially in the Eucharist, feeling them close to us in the spiritual company of the Church. #GeneralAudience
Laura Krenz
For the repose of my Nana, Frances Wildman who passed 10 years ago on November 7th. May she rest in peace.
Anto Antika Guberac
Milosrdni nebeski Oče!🙏❤ Smiluj se siromašnim dušama u čistilištu!🙏💔❤
1491
have prayed
I am saddened by the violence against Christians in the Tewahedo Orthodox Church of Ethiopia. I express my closeness to this Church and to the Patriarch, dear brother Abuna Matthias, and I ask you to pray for all the victims of violence in that land.
Anto Antika Guberac
Isuse!🙏❤ Smiluj se braći i sestrama Etiopije!💔🙏
PaulineNdawula
please LORD envelope us in your DIVINE MERCY and PLEASE LORD forgive us our sins.
2595
have prayed
In these last days of October, I invite you to pray the #HolyRosary for the mission of the Church today, especially for men and women missionaries who encounter the greatest difficulties. #MissionaryOctober
6648
have prayed
My thoughts go once more to the Middle East. In particular to the beloved and tormented Syria, from which tragic news is once again arriving with regard to the fate of the populations in the North-East of the country, among these populations there are also many Christian families.
Imelda.bennett
Imelda Bennett :please pray for baby Charlotte she is in icu since birth 2 months now Lord be merciful.
Imelda.bennett
Imelda Bennett :let's pray for all our priest. Lord hear us
2754
have prayed
I entrust it to our common prayer and to the intercession of the new Saints, and I unite myself to the grief for the dead, the wounded and the dispersed. I encourage the seeking of social peace, with particular attention to the most vulnerable populations, to the poor and to human rights.
Terran Military
Let us pray also for animal rights, for god gave us all the animals as property, and in such ownership animals have the right to be owned. the sons of god took the daughters of man as their own as well, and their decendants are property of the Word. Please, PRAY FOR MY POLITICAL RIGHTS!
U-Sun Park
Oh God save the depressed and suffered families.
3948
have prayed
I ask you to accompany this important ecclesial event with prayers, so that it may be experienced in fraternal communion and docility to the Holy Spirit, who always shows the ways for bearing witness to the Gospel.
Terran Military
As i humbled myself in private, please pray that levitical law be built upon in full, as one humbles oneself in accordance with the themes of society, i beg that prayer give my digestive tract the miracolus healing powers of Jesus Christ, that at full potential, raising the dead is possible.
3875
have prayed
I invite everyone to pray so that this dialogue might be fruitful and lead to peaceful, just and lasting solutions, to everyone's benefit
Consolata Ugboko
Amen and Amen
5167
have prayed
I also join in my prayer the memory of those who are affected by cancer, that they too may always be more supported, both in the prevention and in the care of this disease.