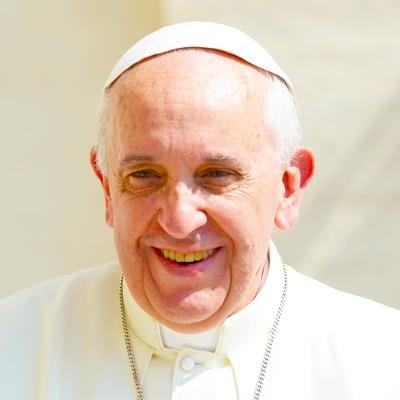 Pope Francis
Vatican
Welcome to the official Click To Pray profile of His Holiness Pope Francis.
3225
have prayed
I invite you, each within your own heart, to pray for our brothers and sisters who have lost their lives or who are suffering because of the hurricane in the Bahamas.
BeaRamos68
Thank you, Father, for redirecting hurricane Humberto. It did some damage but not like Dorian. Only You, our God, is who can do All. Our faith is in you to save mankind from its own destruction. Only you, O Creator, Savior, Sanctifier, can we trust, do we trust and have FAITH. 🙏❤️🤗😘
1994
have prayed
I invite you all to join in my prayer so that God, Father of all, may consolidate fraternal reconciliation in Mozambique and all over Africa, the only hope for a solid and lasting peace.
1876
have prayed
Now is the time to rediscover our vocation as children of God, brothers and sisters, and stewards of creation. In this #SeasonOfCreation, I invite everyone to dedicate themselves to prayer.
Karin Hauenstein
Our Lord and Savior please protect and strengthen your servant, Pastor William Jefferson Akpalu, who humbly serves your Kingdom in Accra, Ghana. His health is at issue and his family without food. Help me to support his work and share your blessings. In Jesus' name we pray. Amen
2144
have prayed
We are all worried about the vast fires that have developed in the Amazon. Let us pray that, with everyone's commitment, they may be tamed as soon as possible. That lung of forest is vital to our planet.
Ivan Mathew
Lord have mercy on our planet which you have created
Angelina Antić
Amen 💖🙏🕯🙏💖
3388
have prayed
Prayer made with faith is powerful! We continue to pray the Rosary for peace in the Middle East and throughout the world.
Karin Hauenstein
Our Lord and Savior please hear our prayers and touch the heart of every man in the Middle East that Sharia Law will fall and innocent women and children will be set free of oppression. In Jesus' name we pray.
4479
have prayed
I am spiritually close to the victims of the episodes of violence that these days have bloodied Texas, California and Ohio, in the United States, affecting defenseless people. I invite you to join in my prayer for those who have lost their lives, for the wounded and their families.
ralp yburan
also here in the philippines, helpless people are being bullied.....sometimes i wish and pray armageddon will come soonest.....
Shibu Jacob
may the good God bless everone
7490
have prayed
Let us pray the Lord to inspire and enlighten the parties involved, so that they can reach an agreement as soon as possible that will put an end to the suffering of the people for the good of the country and of the entire region.
meabhmcconnell
godbless the people who are suffering please watch over and protect them
6123
have prayed
We pray for the sick who are abandoned and left to die. A society is human if it protects life, every life, from its beginning to its natural end, without choosing who is worthy to live or who is not. Doctors should serve life, not take it away.
3835
have prayed
I invite you to pray for the poor unarmed people who were killed or injured by an air strike on a migrant detention center in Libya.
AnnetteK
God Bless Everyone 🙏
meabhmcconnell
internal rest grant onto them o lord
5775
have prayed
Today we celebrate the 175th anniversary of the Pope's Worldwide Prayer Network. I invite you to pray with me to be united to the Heart of Jesus and to enter together into a mission of compassion for the world.
meabhmcconnell
we pray for Pope Francis and his intentions, gobless him
Domhnaill
AMDG - - - tt ❤️🙏💜