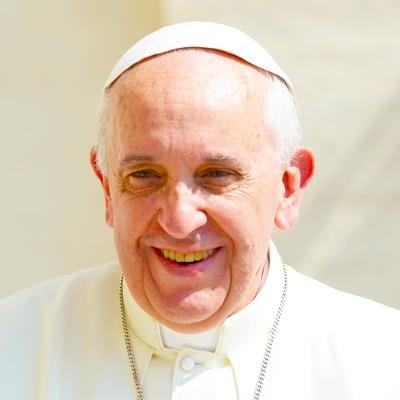 Pope Francis
Vatican
Welcome to the official Click To Pray profile of His Holiness Pope Francis.
2346
have prayed
Let us pray the Lord to inspire and enlighten the parties involved, so that they can reach an agreement as soon as possible that will put an end to the suffering of the people for the good of the country and of the entire region.
Ron Lybrand
Please pray for my mom. She has a lung infection she got from drinking water after Katrina. No cure. She is on Oxgen 24/7 but still can't breathe. Please pray for a healing. I ask in Jesus's Name. Amen Thank you 🙏🏻
2676
have prayed
We pray for the sick who are abandoned and left to die. A society is human if it protects life, every life, from its beginning to its natural end, without choosing who is worthy to live or who is not. Doctors should serve life, not take it away.
Rosemary Farrell
Holy Spirit guide our thoughts and actions. Bless Pope Francis.
Rosemary Farrell
Please pray for my father who is being very difficult. He has written untrue hurtful things to me in a letter.
1886
have prayed
I invite you to pray for the poor unarmed people who were killed or injured by an air strike on a migrant detention center in Libya.
Tessa Hanchey
I need some , plug in from rome, outlets.soilder boy,so I'm going threw the vally,father
4163
have prayed
Today we celebrate the 175th anniversary of the Pope's Worldwide Prayer Network. I invite you to pray with me to be united to the Heart of Jesus and to enter together into a mission of compassion for the world.
Tessa Hanchey
mayor,Micheal. I'm going threw the Olympics,ticket,base
2261
have prayed
I invite everyone to look at the Heart of Jesus and to imitate its truest feelings. Pray for all priests and for my Petrine ministry, so that all pastoral action may be marked by the love that Christ has for all of us.
Alina W.
It's okay . I could forgive you 😇😀
Denisa
bez teba otče aj tak nič nemôžme urobiť prosím odpusť mi ak som si nevadila tvojich darov bývanie prácu priateľov a uprednostnila som to čo má od teba odrádzalo tak nám mi pomáhaj amen otce
5804
have prayed
Let us pray for this nation, so that the violence may cease and that the common good may be sought in dialogue.
3320
have prayed
Holy Spirit, breathe into our hearts and let us inhale the tenderness of the Father. Breathe upon the Church, so that she may spread the Gospel with joy. Breathe upon the world the fresh restoration of hope.
Denisa
otče verím že si nám otcom a my tvoje deti bozsie ako prosím ťa o pokoj aj o milosti potrebné ak volá bozsia o dobre ženy pre Vendo Peter Jozef brata Romana a dobrých mužov Kika Katka a ko bozsia volá amen
2347
have prayed
Lord, defuse the violence of our tongues and our hands. Renew our hearts and minds, so that the word which always brings us together will be "brother", and our way of life will always be: Peace.
Nuri Warzecha
We pray to you father. Y
4665
have prayed
Tomorrow I will go to Romania as a pilgrim, to walk together with our brothers of the Romanian Orthodox Church and with the Catholic faithful. I ask you, please, to pray for me.
sr.mereena vijayan
3 Hail Mary
3799
have prayed
We pray for the Catholics in China. May Our Lady of Sheshan help them witness to the faith, in communion with the universal Church, and to persevere in unity despite the wounds and the trials, trusting in the hope that does not disappoint.
Karin Hauenstein
I pray God keeps the spirit of Baby YeYe alive in the hearts of her parents and all people in China that they will always place the lives of others above their own. I pray the love of God reach every human heart and rest there in earnest to restore the blessings known by Adam. Amen.