18
have prayed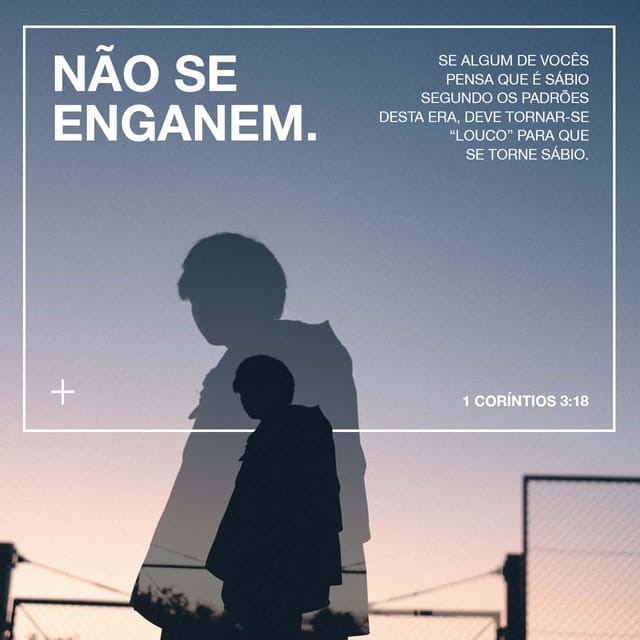 Que ninguém se engane a si mesmo. Se alguém no vosso meio se julgar sábio, segundo a sabedoria deste mundo, faça-se ignorante para poder ser verdadeiramente sábio.
12
have prayed
A morte e a vida estão à mercê da língua; os que com ela se deleitam sofrerão as consequências.
15
have prayed
Tu subiste ao alto e levaste contigo prisioneiros, recebeste tributo dos homens; até os rebeldes se renderam a ti, SENHOR!
Fatima França
Para permanecermos na fé e confiança em Ti, Senhor! Que saibamos esperar que seja feita a tua vontade. Que não desanime nos de rezar e te levar com alegria, mesmo nesses tempos difíceis.
20
have prayed
Eu sou o bom pastor. O bom pastor está pronto a morrer pelas suas ovelhas.
Maria Celeste
Gesù confido in Te ♥️
17
have prayed
O meu Deus há de conceder-vos com largueza tudo aquilo de que precisarem, segundo a sua riqueza gloriosa em Cristo Jesus.
24
have prayed
Felizes os que promovem a paz, porque Deus lhes chamará seus filhos!
20
have prayed
As preocupações avolumam-se na minha mente, mas o teu conforto alivia-me.
21
have prayed
Que cada um dê conforme julgar bem na sua consciência. E não chorem aquilo que dão, nem deem de má vontade. Pois quem dá com alegria agrada a Deus.
18
have prayed
Felizes os íntegros de coração, porque hão de ver Deus!
19
have prayed
O SENHOR reinará sobre toda a terra. Nessa altura o SENHOR será único e o seu nome será único.
Laura Nogueira
Amém!!!!! 👐👏👏👏👏