Liliana Gentile
Argentina
17
have prayed
Inmaculada Madre del Corazón Eucarístico de Jesús, te ruego intercedas por los socios enfermos del Apostolado de la Oración, recreado como Red Mundial de Oración del Papa, especialmente te pido por Luis Equini y su familia. San Maximiliano Kolbe, ruega por nosotros.
19
have prayed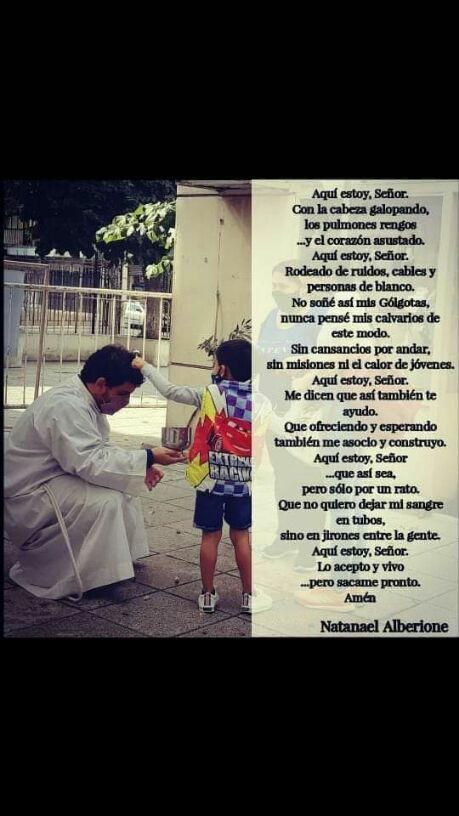 Señor Jesús, te ruego por los seminaristas que decidieron seguirte y ahora están enfermos. Te pido humildemente por Natanael de la Diócesis de Comodoro Rivadavia. Escucha su oración confiada. Beato Carlo Acutis, intercede por los jóvenes seminaristas.
15
have prayed
Virgencita de Luján, sabes cuánto te queremos, a tus pies llevamos siempre nuestro agradecimiento por tu intercesión como Madre y Señora Nuestra, te rogamos auxilies e intercedas ante tu Hijo Jesús por la salud de Walter que ha sufrido un grave accidente, sostiene a su esposa y su familia.
6
have prayed
Querido Carlo Acutis, se que intercedes incansable ante nuestro Señor, hoy de pido por Juany de Puerto Rico, para que sane su cabecita, encausa nuestras oraciones para que lleguen por tu autopista al Cielo. Ntra. Señora de la Divina Providencia, ruega por nosotros.
12
have prayed
Señor Jesús, hay tantos necesitados que necesitan de tu auxilio! Por eso hoy traigo por el techo como los amigos del Evangelio a las mamás que a pesar de sus enfermedades cuidan de su familia y están a tu servicio. Te ruego especialmente en este día por Silvina, su esposo y sus hijos. Sánala S...
10
have prayed
Querido Carlo Acutis, sabes que estamos transitando el Camino del Corazón, de las carencias en tecnología y de las dificultades de los adultos mayores para capacitarse, pídele a Jesús que mueva nuestros corazones para explicar con caridad, aceptar la ayuda con humildad y no haya interferencias.
9
have prayed
Virgen Maria, Nuestra Señora del Perpetuo Socorro auxilia a los habitantes de Niamey (Niger). Protege a las familias, especialmente a los jóvenes y los niños. Consuela a las madres de los niños fallecidos en un incendio en una escuela. San José, protégelos como hiciste con Jesús Niño.
18
have prayed
Señor Jesús traigo a tus pies a tus servidores los sacerdotes enfermos, que trabajan incansablemente por acercar la compasión de nuestro Padre a los más humildes, para que pronto puedan volver a sus labores habituales, especialmente por el p. Leonardo del Sagrado Corazón de Dock Sud y su comuni...
17
have prayed
Amado Jesús, te pedimos que puedas evitarle una operación a Ely, que pueda aliviarse y reponerse sin pasar por ella. Te lo agradecemos desde lo más profundo de nuestro pequeño corazón. Gracias Señor. (Sabés Jesús percibo que siempre estás escuchándonos y harás lo mejor para ella) (Norit...
8
have prayed
Señor que la libertad, derechos, lleguen un día a tantos países donde también lo padecen los niños, futuro de éste mundo. Que nos haga despertar a todos, especialmente a los que gobiernan. (Lili M).