19
have prayed
Quando più non crescerà la nostra altezza, continua, o Signore, a farci largo il cuore alla compassione; quando braccia e gambe finiranno di allungarsi, fà, Gesù, che sia il nostro amore a diventare grande, per abbracciare sorridenti il mondo.
Paola Passarello
Amen! 🙏💞🔥💐
Celeste Croce
Amen 🙏❤️🙏❤️🌿
16
have prayed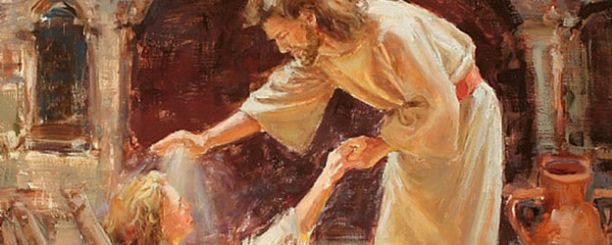 Gesù, potenza divina di salvezza, Tu sei medico dell'anima e del corpo. Abbi pietà delle nostre piaghe spirituali e corporali! GUARISCICI, SIGNORE, PERCHÉ SE VUOI, TU PUOI!
11
have prayed
BENEDIZIONI DI QUESTO GIORNO!❤
17
have prayed
Perché LA NOSTRA GIOIA non RISIEDA nello sfuggire alla morte, ma IN COLUI CHE VINCE LA MORTE!
Celeste Croce
Così sia 🙏❤️
43
have prayed
"Perdonaci Vincent! Quello che ti hanno fatto è disumano: otto giorni senza bere e mangiare. E dicevano che non avevi la forza di vivere. Otto giorni di attaccamento alla vita. Disperatamente. Preghiamo per te, per i tuoi genitori, per chi ha deciso che dovevi morire e per noi..."
Celeste Croce
Signore abbi misericordia di noi e del mondo intero 🙏 accogli Vincent nel Tuo regno.Amen
adeline
May the Lord heal him 🙏🏻📿🥀
18
have prayed
GESÙ, fratello divino, TU CHE HAI SAPUTO PRENDERE FERME DECISIONI, scelte che danno senso alla vita, AIUTAMI AD ASSUMERE QUELLE CHE SPETTANO SOLTANTO A ME, quelle per le quali Tu mi hai regalato l'esistenza, con i suoi sorrisi ed i suoi sacrifici. Grazie!
Celeste Croce
Prego con te 🙏❤️
42
have prayed
«QUANDO LE PERSONE NON AMERANNO PIÙ , SARÀ DAVVERO LA FINE DEL MONDO, perché senza amore e senza Dio nessun uomo può vivere sulla terra!».
Mariaelena Tizzoni
GESÙ DESIDERO AMARE
Reji George Kurian
Chi non ama non conosce Dio, perché Dio è amore. 1 Giovanni 4:16
38
have prayed
C'era un'anziana[...]Nelle braccia aveva il nipote.Quando sono passato me lo ha fatto vedere.Sorrideva con un sorriso di complicità,come dicendomi:"Guardi, adesso io posso sognare!".[...] I nonni sognano quando i nipoti vanno avanti,e i nipoti hanno coraggio quando prendono le radici dai no...
Antonella Piacentini
🙇🙇🙇🙇
23
have prayed
"Uomini di Galilea, perché fissate nel cielo lo sguardo? Come l'avete visto salire al cielo, così il Signore ritornerà". Alleluia. (At 1,11)
16
have prayed
Io non mi fido di me stesso, ma confido in Voi, Gesù mio!
Reji George Kurian
"Ecco, Dio è la mia salvezza, confiderò e non avrò paura, perché il Signore, l'Eterno, è la mia forza e il mio canto, ed è diventato la mia salvezza". Isaia 12: 2