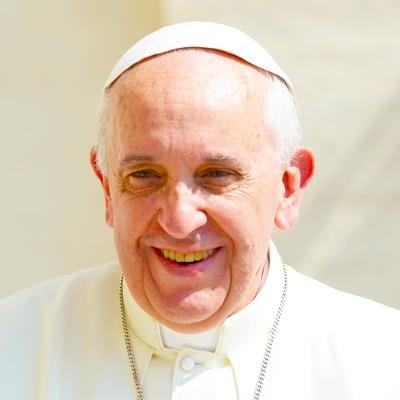 2019/02/18 12:13:39
724
have prayed
I invite you to pray during these days for the Meeting on the Protection of Minors in the Church, an event that I want to be a powerful gesture of pastoral responsibility in the face of an urgent challenge of our time.
Lord hears our prayers. Amen
St Michael the archangel be our defender!
Dear Pope Francis and church leaders , I pray your meeting, mission, vision and values be centered always on the Love of Christ who sustains us all. May we all work diligently together to protect all God's Children always. Lead us not into temptation but deliver us from Evil.
stop hurting power kids let them grow up and make there own dicisions..
Papa father we are with you.We thank God for our dear papa.May God sent his holy spirit upon you to guide the church and to spread the gospel Jesus to every corner of world.Let the whole world know the Love of Jesus .Amem
We pray Dear Pope the Lord to protect you and we thank you for your courage
I pray that the Lord Father grant you the strength with the guidance from the Holy Spirit.
Dear Father. I pray that finally my church would accept me in who I am. God put me in this world being gay... but respectfull... Being 60, I am tired of being hurt by my church... please listen and answer to our prayers for acceptance as we also are children of that same God... please help me...
Dear Jehovah God, graciously bestow upon us from your wisdom, understanding, and knowledge. Psalm 91 and Revelation 2:19-22. he who dwells in the shelter of the Most High abides in the shadow of the Almighty. Your Word Your Son says to You Jehovah, His Refuge and His Fortress, His God, in whom He...
Dear Father, we are with you and pray with you. We request you to initiate prayer for our church in India, particularly in Kerala to come out of materialistic approach, power and sexual atrocities. Bring them back to the Jesus path.
Papa Francesco we are with You??, we pray with You, we loving You ❤️?
holy father your courage and ability to solve issues faced is admired by the entire catholic community. We join you in prayers from Sri Lanka and pray to mother Mary to guide you.
May our Mother Mary direct the hearts of those present, to identify the root cause of these afflictions, and profer meaningful way forward to resolving them. May the presence of the Holy Spirit prevent anger and confusion to distract the participants from the work of mercy this is. Amen.
In Jesus holy beautiful name I pray. May God bless and keep you. You are loved and are a blessing from our Almighty Father, His Beloved Son, and their most Blessed Holy Spirit. You are in my prayers as are your intentions! Amen
Pope Francis, I pray that God will guide you and all those at the meeting. May He grant you the courage, wisdom, inspiration and whatever else is necessary to conquer this heartbreaking evil.
ll Holy Fr. I pray for you for enlightenment in this difficult issue that has enveloped the Churchm
Bless you Holy Father. I pray that The Holy Spirit will fill you with courage and inspire you to do the right thing. May the cloud of evil hanging over our Church and the world disappear forever and leave us to get on with Gods work on earth.xx Claire
Holy Father - May God be with you & St. Michael help you clean the Church. Courage, Holy Father, courage & speak what should be spoken! With love, Theresa God Bless, St. Pio, St. Michael, Blessed Mother, St. Maria Goretti
Part 2 - where he continued his crimes for years until caught - my rapist uncle was the school principal; another uncle left the seminary in early 60s cause of the oppressive homosexuality. All occurred in every decade since the 1950s. Please rid the Church of deviancy & all evil. Theresa God Bless
Part 1- Holy Father: I was 1-week old when baptized by a pedophile; I was 4 when raped by my uncle & his brother-in-law; my father, a teenager when beaten almost to suicide by a pedophile; the late Cardinal Carter of Toronto transferred a convicted pedophile to my parish - to be ctd as Part 2
Dios y Maria te bendigan papa Francisco God bless you pope Francis
Dear Papa Francesco I pray Fatimas Mom be with You.. I trust You and I love You❤️
God Bless you Holy Father, we are with you and Christ's light shines ahead
Meeting on the Protection of Minors in the Church