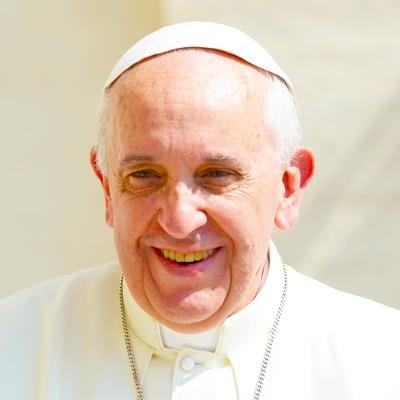 2020/12/02 23:54:35
4428
have prayed
I want to assure my prayers for Nigeria, where blood has unfortunately been spilled once more in a terrorist attack. May God welcome them in His peace and comfort their families, and convert the hearts of those who commit similar atrocities which gravely offend His name.
As Our Lord Jesus Christ and St.Stephen cried,"Father,they know not what they are doing, pardon them",let Abba Father out of His mercy pardon the killers and receive the innocents in His bosom.
Pope Francis pray for Christian Unity. Many Christians in Interchurch families are divided during the holidays. Pray for Christian Unity and true Ecumenism. Forgive our sinfulness, heal our brokenness.
🇵🇭 Happy Blessed Birthday Pope Francis. Best of health always. 🎂🎊🎉Praying always with you from the Philippines, .🙏🙏🙏
praying for your protection from Coronavirus. we have heard you have been exposed. John Cooper
l know click to pray is meant for the youth but it has been a life saver for this old man. I am thankful for this app.
I watched the documenty about vactican my knees weaked and i cryed when i witness the washing of the feet. Holy Father thank you for your unconditional love for all
Duyog‐ampo alang sa nangabiktima sa Nigerya. Malipayong Adlatawhan, Papa Fracisco!🙏🙏🙏
Happy Birthday Holy Father!
Happy birthday to you Holy Father l pray your day is awesome and clear may you have many many more we Love and respect you Father
Happy Birthday Pope Francis 🙏😇💞✝️ my birthday 17 october 😊 Every day pray for Pope Francis 🙏😇💞✝️
Sretan i blagoslovljen rođendan❤ našem dragom Papi Franji❤ Najbolje želje!🙏 🙌 🎂 😀
Oh people of Nigeria.... do not lose your faith..... God sees all.... and will reward you someday for your trials and troubles..... and take you in his Loving Arms and say.....welcome home good servant..... Amen
Holy Father.... we pray with you, and ask God to protect all good people from these types of attacks anywhere in the world. Sometimes we feel helpless because evil looks like it can't be stopped. But we believers know our God lives and waits for us in Heaven. Eugene Silvaggio.
Smiluj se ISUSE GOSPODINE!💔🙏❤
May God touch the heart of all the fighters to see that we are but brothers and sisters.
May respect for human life grow in Nigeria, especially among extremists.
In this crazy isolation, I feel surrounded with family thru C2P. Thank you
Praying for peace in Nigeria! 🙏🏻🙏🏻🙏🏻
Oče!❤ Molim Te za braću i sestre Nigerije!🙏
Prayers for these dear ones who are suffering so at this time! Lord, in your mercy! ❤️
Praying in union with our Holy Father for peace in Nigeria🙏
🙏Prayer for peace and safety in Nigeria #PrayTogether with Pope Francis
God Bless all the people in Nigeria 🙏✝️🌍❤️
On the feast of St. Francis Xavier, patron saint of African missions, we pray for peace and safety for all in Africa.
May God be with you Pope Francis. May He richly bless you and your family in this time of COVID-19. Be Safe in the name of the Father,The Son, and Holy Spirit. AMEN
May the Spirit of Peace fill hearts and give comfort to those who are mourning.
Amen! Pray for peace of Word ,pray Every day, pray Church,pray Rosary. God blees you. Forewer love God. Pray Every day for Pope Francis 🙏😇💞✝️
For Nigeria