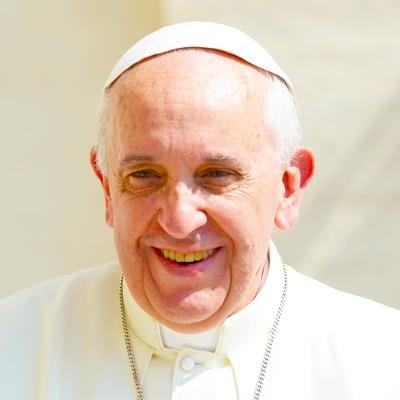 2019/02/04 05:46:25
874
han rezado
I am about to leave for the United Arab Emirates. I am visiting that Country as a brother, in order to write a page of dialogue together, and to travel paths of peace together. Pray for me!
Lord hears our prayers. Amen
Amen! May The seeds of Love and Unity bring us closer to Loving God as one people. God bless your visit with abundant fruit. Amen 🙏🏻
May you have safe travels
May God watch over and protect you on your very important mission.
prosím o požehnanie zdravie Vendo a jeho rodine a blížnym ďakujem amen
god be with you Pope Francis and may we all pry for a safe and respectful universe ??
Thank you Pope Francis for visiting us here in UAE. May Lord continue to bless you to be able to extend his blessing to us His children. I hope you reach Rome safe and Godbless all your future visits. Viva Pope Francis!
God Bless You Holy Father. .Pray for all christian n non christian amen.
God bless you Holy Father :) I love You:)
Merci Papa pour Votre dialogue
Merci Papa pour Votre dialogue
Papa Francisco pray for me and my grandchildren and my daughters and sons thank you I will pray for you Papa Francisco
Please pray for my daughter who has cancer that she has the strength and good treatment to get through it!
god bless you and holy father ❤️
Dear Papa May God bless you
Ježišu otče Mária prosím za Venda jeho rodinu zdravie a blížnych požehnanie amen
God bless you Papa...I love You..Merci pour tout que tu fais pour le monde..
God bless you, Holy Father!
Papa i am not able to attend Holy Mass Uae.. i will pray from my workplace..God Bless you our Papa
Papa i am praying for your health
dear papa...you are always in my prayers
Dear Jehovah God, You are holy and Your Name is holy, and holy beings praise You daily for all eternity. Is 60:1-3 Arise, shine; for YWYS, Your Light comes, and the glory of You Jehovah rises upon Your Word Your Son. For behold, darkness covers the earth and deep darkness the peoples; but You Jeho...
Bless you, Pope Francis. You are in my prayers.
Desde COLOMBIA orando por su merced FUERTEMENTE q el Espíritu Santo le guíe p q nos urge empezar a ver fuertes cambios urgente....it is time!!!
God bless you Papa Francisco. i am with you in my prayers.
God bless you Papa Francisco. i am with you in my prayers.
Jesus You take over ..We very loving Papa Francesco :) Saint Marie protege notre Prophete ;)
Jesus You take over ..We very loving Papa Francesco :) Saint Marie protege notre Prophete ;)
Papa Francisco you are in my prayers
Papa Francisco we love you
Papa Francisco I will pray for you
Tweet from Pope Francis : "The Document on Human Fraternity, which I signed today in Abu Dhabi with my brother the Grand Imam of Al-Azhar, invites all persons who have faith in God and faith in human fraternity to unite and work together".
Peace be with you&best wishes for fruitful meetings
Pope Francis pray for me. I seek revenge of my cousins murderer who is being paroled from prison after 30 years in prison. Her son who was 10 at the time of her death took his own life 3 years ago in my mother's home. I am in need of your prayers.
prosím za Venda a jeho rodinu celú požehnanie zdravie
May d Holy Spirit guide our Holy Father in his mission to touch hearts which will unite us in Humanity...My prayers for our most loved Pope Francis in his visit to UAE
God's peace and blessings be with you Holy Father and with all the people of the UAE
Heavenly Father, please watch over our Pope Francis as he bravelt goes to the Arab Emirates Emirates to bring Your peace and grace. Bless his trip and protect him from any evil or harm. Let your love shine through him in every word and deed. Hail Mary.
blessing of Jesus be with you Holy Father. We hope one day for the Peace see you in Iran, Father.
Lord Jesus, shelter our Holy Father the Pope under the protection of Your Sacred Heart. Be his light, his strength and his consolation.
Jesus please hear our prayers.
Merciful Jesus bless the unity, Our Mother Mary take care of us. Holy Sipirit, guide us. All the saints and angels help us. Heavenly father - teach us to LOVE!
pace in cielo in terra in ogni luogo del mondo , ciao papa Francesco
United Arab Emirates