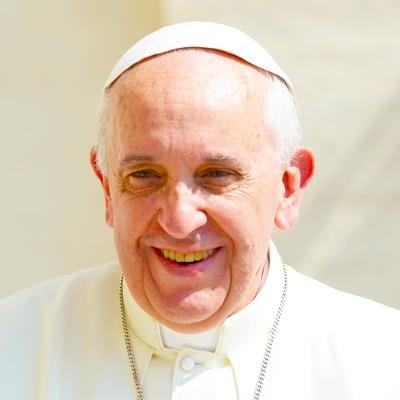 2019/05/04 15:08:14
1464
have prayed
I ask you to accompany with your prayers my journey to Bulgaria and North Macedonia, which I begin tomorrow as a pilgrim of peace and fraternity. #ApostolicJourney
We love you Holy Father and walk beside you, together with Jesus, Our Lord and Master. Peace be with you always from Australia🙏🏼⛪️🎚
ti voglio bene papa francesco
may god bless our holy father with good health and keep him safe in his care. 🙏♥️🙏
I am honored to join you in prayer everyday, and you are in my prayers everyday! You are a light to the world, to believers and non-believers alike. I can truly see and feel the love and kindness of Our Almighty Father in your eyes and I sincerely thank you for all that you do! God bless!
papa franjo...zelim krunicu kao pklon od tebe..tvojom rukom blagosovljenu....
Heavenly Father, Give Pope Francis the wisdom and courage throughout his travels. Hail Mary. Mark Blount
In these challenging and troubling times I wish you success in your endeavours to guide and enlighten. Amen.
May our Good Father lead us through his chosen Vicor on Earth and Holy Spirit, in Jesus name
may god bless our holy father and keep him safe in your care. God pour your 🔥holy spirit and guide him do in his holy works . mother Mary pray for us. 🙏♥️🙏
blessings are the ground beneath and the stars above. give the phillipic boys a good emeince and let them know that we believe in one god that the sons of bachus rise and accept the path. amen
The will bless the journey of our holy father. ...
🛐May God Bless You and this Journey. 🙏 Almighty Eternal Father, Please watch over and guide Your Vicor on Earth, Pope Francis, in his mission. Please open the hearts of all your children to Your presence, Your message, Your will. We ask this through Your Son, Jesus Christ, our Lord and Savio...
Let it be done according to Your will..O Lord have mercy.
Lord hears our prayers. Amen
dear god ,Please keep our holy father safe in your arms . may your holy spirit guide him bring love and peace to this countrys. 🙏♥️🙏 lord hears our prayers.
may god be your travel companion every moment of your trip. dear jesus protect our beloved pope francis and let his trip be successful.
May the Lord bless your journey and keep you safe May His will be done through your blessed works
Lord hears our prayers. Amen
Lord hears our prayers. Amen 🙏🏻
Bulgaria and North Macedonia