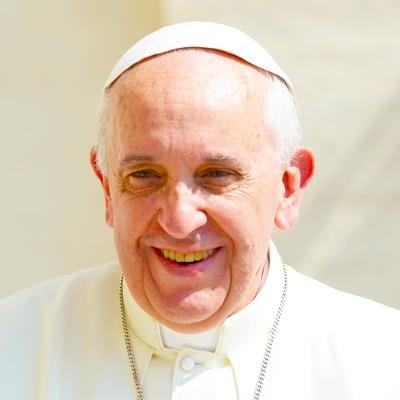 2021/03/03 13:20:00
2211
have prayed
The day after tomorrow, God willing, I will go to Iraq for a three-day pilgrimage. I ask you to accompany this apostolic journey with your prayers, so that it may unfold in the best possible way and bear the hoped-for fruits. Let us pray that this journey will be a good one.
Thank you Pope Francis for making this journey for peace and sign of God's love.
lord..pls.keep safe our pope amen
🙏#PrayTogether with Pope Francis
Lord bless and protect our Holy Father and May his journey bring hope and peace to all.
Lord, bless and protect Holy Father, Pope Francis, in his journey. Amen🙏🙏🙏
God bless the Holy Father's trip. May it be fruitful for all. Amen.
We pray for all those wounded and hurting souls who are living in the silence of suffering. Jesus nothing blinds Your seeing or deafens Your hearing, be the healing, comforting and befriending soul to these so in need of Your merciful, kind and loyal friendship. Thank You. Amen.
God Bless you Pope Francis. A Safe and much Fruit Journey.🙏✝️🕊️❤️🌍
O loving God, please look after Pope Francis during his journey to Iraq. We pray for his protection and his team as well and may this apostolic journey will bring Your peace and love to Your children in Iraq. In Jesus name, AMEN.
LORD, through Your holy servant Pope Francis. bless Your beloved children in Iraq and be with him in this trip.
Loving Christ, bless the Holy Father's trip to Iraq with safety and much fruit.
Dear Lord Jesus, Please watch over and protect Pope Francis as he visits Iraq.May it be a good journey and a safe one.
I pray dear Lord that the Holy Father's trip to Iraq will be prayerful, peaceful, and successful. I also pray for my Physical Therapist who is chaperoning a school trip to Washington D.C. with her teen niece's class. With the unrest unfolding in the US Capitol, I pray for a safe rewarding experi...
lord protect and guard Holy Father till his return journey home. May peace prevail in Iraq during his stay there. Mother Mary be with holy Father during his tour.
Holy Father we love and pray for you everyday for peace and protection
Dear Lord, we pray for the protection of Pope Francis in Iraq. May this visit marks the beginning of healing and restoration of unity to the people, may God's goodness and mercy reigns supreme in the hearts of those in charge of the affairs of the country. Mother Mary, pray for us. Amen.
Lord, bless our Pope to be successful in his dreams for peace and fraternity for all of us, guide and protect him from all dangers. Amen.🙏🙏🙏
Praying for the Pope's safety and the success of the mission.
Lord Jesus, we pray for the safe journey of Pope Francis to Iraq. Bless and protect him and may this journey bear the fruits that it was intended for. Holy Guardian Angels watch over Pope Francis. Amen.
good morning dear lord bless us all our pope and the whole universe amen
Dear Lord I pray For Pope Francis To be blessed with safety and that those words of God he will say for the love of all - that the people of Iraq will hear & feel Your love and follow Your words forever - Amen 🙏
may the lord protect and bless our Pope and may his journey be fruitful Amen
Apostolic Journey of the Holy Father Francis to the Republic of Iraq